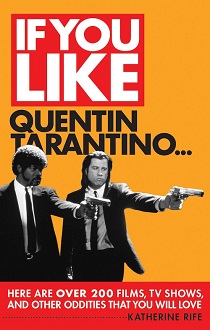 The If You Like book series from Limelight Editions is perfectly designed for today's Internet-addled short attention spans.  They are all fairly short volumes, designed around mega-pop culture influencers, and contain over 200 recommendations in the same vein that er easily digestible in small chunks.
"Chunks" is the appropriate word to use in this case, of course, because author Katherine Rife plumbs the depths of some of the most notorious, graphic, and bloody b-movies and exploitation films of the last 60 years as she looks at the influences of one of cinema's most provocative talents in her book If You Like Quentin Tarantino…
Rife herself is a filmmaker and one of the co-founders of Everything is Terrible, so she knows a lot about fringe cinema and the pleasures of supposedly low-brow material. She even has a kind of parallel with Tarantino in that she was a video-store clerk — and she begins the book with an anecdote about letting a junior high school kid rent the hard-R Kill Bill: Volume 1 on sheer principle alone: He may not be old enough, but at least he had good taste.
By dividing up the book into chapters related to each of Tarantino's eight full-length directorial efforts (counting Death Proof, which was expanded from its original Grindhouse version on home video), Rife covers hundreds of spaghetti westerns, blaxpoitation films, car-chase pics, kung fu movies, gun-crazy heist films, and slasher/revenge flicks. She even writes about some of the better, almost-forgotten neo-exploitation movies like Stephen Frears' criminally overlooked The Grifters and Alejandro González Iñárritu's impressive debut Amores Perros.
What's refreshing is the detail in which she goes into the pleasures of each genre. If you've ever felt intimidated reading a Tarantino interview where he rattles off so many obscure influences in a matter of seconds, this is the book for you. Rife does an impressive job putting each film in perspective, not only in terms of its influence on Tarantino, but how it fits in with the wider genre picture overall.
For instance, I'm not really into kung fu movies, but I love the gonzo, go-for-broke mentality that many low-budget genre pictures have. It's as if the director thought this would be the one and only shot to make an impression, and often times that was true. But in reading Rife's description not just of the plots of the kung fu movies she profiles, but also the cultural perspective, I have a better idea of where each film fits in and can bring that into my viewing experience. The genealogy of kung films is especially twisted, especially with each movie having up to three or four different titles in different countries.
The Streetfighter trilogy, starring Kill Bill's Sonny Chiba, sounds especially hilarious: "The Streetfighter is set in an alternate universe that may look like our own but is unencumbered by the laws of physics. so when you're having a conversation and things start to get awkward, just jump out the window onto the back of a passing flatbed truck!" She also notes that The Streetfighter is known for its brutality, not necessarily its intricate choreography. If you're looking for that, you may want to try the Shaw Brothers' Fist of the White Lotus, starring Gordon Liu. (Of course, Liu is also in Kill Bill, as Uma Thurman's kung fu master Pai Mei.)
Quentin Tarantino may be the filmmaker who borrows and references the most from obscure b-movie cinema, but he almost always transcends his genre mash-ups to produce something that feels fresh and exciting. If You Like Quentin Tarantino… does a great job combing through these trashy treasures and Rife writes with an palpable exuberance that might send you straight to your Netflix queue. For a concise, informative read on this often-covered subject, I can't recommend it more highly.