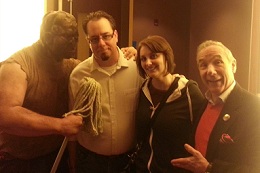 It was a night filled with blood splatters, laughter, demon chicken zombies, musical numbers, Toxie, and a man who deserves to be called a legend of independent film.
The Lloyd Kaufman-hosted double feature of The Toxic Avenger and Poultrygeist: Night of the Chicken Dead this past Tuesday at the Alamo Drafthouse Mainstreet was everything a fan of B-movie horror could ask for. Lloyd Kaufman, director of both films, is the first special guest host to make an appearance at the Kansas City Alamo Drafthouse, and hopefully not the last. If this experience can be repeated, then the Drafthouse will continue to stake it's claim as a a place for movie experiences rarely found elsewhere in Kansas City.
Troma Entertainment has been turning out B-level horror and exploitation films since the early 70's. As founder, Lloyd Kaufman, himself put it, "I believe we are the oldest independent movie studio in the United States, and if not, we're certainly the oldest that's never had a hit." And while box office numbers would certainly agree with that notion, there's no doubt Troma has left its mark in the world of film. Movies like The Toxic Avenger, Sgt. Kabukiman NYPD, The Class of Nuke 'Em High and others have made Tromaville a place almost all of us have visited at one time or another
When I first arrived at the Alamo Drafthouse, a good 30 minutes before the event's scheduled start time, Mr. Kaufman was front and center outside the theater entrance already signing autographs and taking pictures with anyone who wanted them.
With offers to re-tweet any photos that people posted, and even encouraging several young filmmakers to share trailers and clips with a promise to pass them on to the social network that makes up the Tromaville universe, Lloyd Kaufman could not have been a more gracious and friendly guest host for the event. There was even a local guy dressed as Toxie, The Toxic Avenger's monster hero. Kaufman made him the official Toxie for the evening, including him in pictures with fans and his Q&A session between films.
Before the first film started, Kaufman addressed the less-than-capacity but energetic audience. He introduced Troma's best known film, The Toxic Avenger, "The only movie, where a child's head was crushed in the film, to be made into a children's cartoon."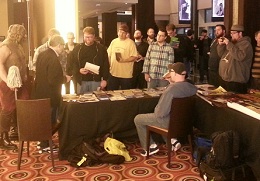 A true classic of 80s B-movies, it had been quite a few years since I'd last seen The Toxic Avenger. It was really nice to see it on the big screen, and it took me back to my college days, when I was first exposed to the quirky excess that is Troma at it's best. It certainly seemed like most the people there were familiar with the movie as the laughs came early and the audience cheered on Toxie cleaning up the streets of Tromaville.
Once the credits started rolling, Kaufman went back out to the lobby for another session of autographs and pictures. That was followed by a Q&A session with the quick-witted producer/director who kept everyone entertained during the short session. During the Q&A we learned that even the King of Shock has a softer side. When asked what movie he'd save from the Troma vault if he could only pick one, Kaufman responded, "I'd save the footage of my wife and I's wedding, because seriously, otherwise there would be a dead man in New York. That's a good question though, next time I take bath salts I'll have to give it some thought," Kaufman dead panned.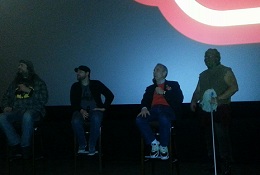 Up next was Poultrygeist: Night of the Chicken Dead. A movie introduced by Kaufman as, "An undead chicken flick that is a shot-by-shot remake of Schindler's List. As Jesus said as he died, yo bitch, revenge is a dish best served fried!" I hadn't seen it before, but this musical ode to fast food and zombie movies about a chicken joint built on an Indian burial ground was just as fun as the first film of the night. It featured the typical non-PC humor, nudity, gore, and cartoonish offensiveness that give all the best Troma movies a fun factor lacking in other shocking gore-type movies. It's the tone you find in animated shows like South Park, Metalocalypse, and Aqua Teen Hunger Force, but with real actors. All I know is, at some point, I'm hosting a Poultrygeist party with a few buckets of chicken and a bunch of friends with strong stomachs.
The fans there knew what they were in for and what they wanted. The night delivered, and at end of it, where was Lloyd Kaufman again? Back out in the lobby signing autographs and taking pictures, of course.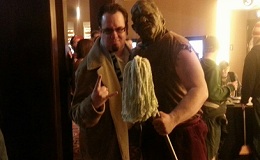 I even saw him give away a free Troma DVD to a fan who made an observation about the statement Mr. Kaufman was making about real vs. fake breasts in scene from Poultrygeist that Kaufman found particularly observant. I thought it almost seemed like a reward for "getting it" — that classic feeling that only fans of great bad movies can really understand (a feeling captured magnificently Tuesday night at the Drafthouse.) A Rock Fist Way Up to all of the parties involved in this awesome event.
Oh, one more thing: Mr. Kaufman would certainly be upset with me if I forgot to mention: There are over 200 Troma movies available to watch for free on their YouTube page. What are you waiting for, go get started already.