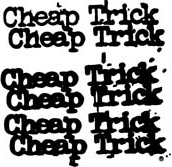 Wow. You know, this sounds cheesy, but it's true: They couldn't have picked a better band to do the theme for the new "Transformers: Revenge of the Fallen" movie.
Cheap Trick is one of those bands that has been around through so many fads and popular music trends that it has only strengthened their sound. They can't be classified as a 70s band or an 80s band (although people who only know "I Want You to Want Me" and "The Flame" will do just that out of ignorance), and they put out two of their best records, "Cheap Trick" (1997) and "Rockford" (2006), in the last two decades and completely under the radar. Lots of bands get crappier and wimpier in time (I'm looking at you, Vince Neil), but Robin Zander's voice is still top-notch and the new stuff rocks as hard as the old stuff AND has better production to boot.

Anyway, this theme has "Dream Police"-like keyboards, a huge bass sound, and hilariously straightforward lyrics about giant robots from the sky that you can't hide from. I mean, that's what the freaking movie's about, right? Why not sing about it? I love that the Trick still has a sense of humor after all these years. Anyway, this may be my favorite theme song since Queen's "Princes of the Universe" for the"Highlander" soundtrack (which took itself way more seriously and was equally as much fun)!
Play this one in your car with the top down and have a cool one. Just don't forget to turn it up!