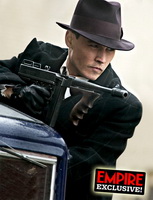 Michael Mann's ("Heat," "Ali") new picture is an adaptation of Brian Burrough's book "Public Enemies: America's Greatest Crime Wave and the Birth of the FBI, 1933-43." It stars Johnny Depp as legendary criminal John Dillinger and Christian Bale as famed FBI agent Melvin Purvis. Billy Crudup is FBI head Herbert Hoover and the movie is called "Public Enemies." Movieweb and Empire have two new pics. Here's one.
Director George Miller ("The Road Warrior," "Babe: Pig in the City") is no longer helming the DC Comics' hero-studded superhero flick "The Justice League of America." Dark Horizons reports that if the project does get going again, he expects that it'll be recast as "the studios seem to want bigger stars in their superhero movies now."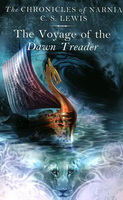 They also report (through Production Weekly) that "Minority Report" writer and writer/director of the overlooked "The Lookout," Scott Frank, is going to direct "Genesis: Apes", 20th Century Fox's attempt to restart the Apes franchise. After what Tim Burton did in his re-imagining of "Planet of the Apes," it'll take someone really talented to erase that stinky memory.
The box-office and critical disappointment of Walden Media's "Prince Caspian" has led to some retooling of the studio's "The Voyage of the Dawn Treader" project, says Jim Hill Media. Original location shooting in Malta, Iceland, and Prague has been ditched in favor of filming two-thirds of the film in the huge water tank in Mexico that was used for "Titanic." Casting is done, however, and they are still reportedly moving forward with the third installment in C.S. Lewis' "The Chronicles of Narnia" saga, even though Disney has yet to officially greenlight the project. In my opinion, this series needs a major overhaul. Tapping Michael Apted, the guy who reinvented James Bond in "Casino Royale," might be a good way to do it. Hope they can keep him.
Before he became leader of the Autobots, according to the original Transformers TV cartoon, Optimus Prime was a peaceful dock worker known as _______ Pax.