Big news on the "Watchmen" front: the much-anticipated Alan Moore graphic novel adaptation's trailer will appear before "The Dark Knight," which opens July 18. Collider has a big interview with director Zack Snyder ("300") from the red carpet at the Saturn Sci-Fi Awards.
Nicolas Cage and Pierce Brosnan will star in Oscar-winning director Roman Polanski's new thriller "The Ghost," an adaptation of a Richard Harris novel about a ghostwriter hired to write the memoirs of an ex-Prime Minister, says MTV.
Meanwhile, it is only archival footage of Polanski that stars in a documentary about his troubled life (including fleeing the U.S. to avoid being jailed for seducing a minor) that's going through all kinds of changes, following a successful run on the festival circuit, reports Variety. The movie already aired on HBO after a brief run in NY and LA for Oscar consideration, and ThinkFilm is scheduled to release the film theatrically in July. 
Quentin Tarantino is supposedly finished with his long-gestating screenplay and moving forward with his World War II drama, "Inglorious Bastards." The BBC has an interview where he says it was inspired by "The Dirty Dozen," but is most definitely a modern film. Tim Roth and Sylvester Stallone are rumored to be involved.
Mike White has just completed the script for a possible sequel to "The School of Rock," according to Ace Showbiz. Whether original director Richard Linklater or star Jack Black is on board remains to be seen, but at least the movie was written by the same guy. White wrote the first one specifically for Black, and if anyone else would have done it, it would have been just a Tenacious D rip-off. Turns out, it was actually better than the D movie.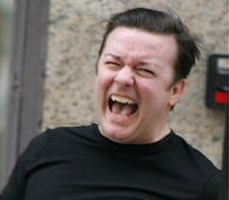 Ricky Gervais (co-creator and star of the U.K.'s "The Office" and "Extras") has gone blog crazy and is posting tons of hilariously candid videos from the set of his new movie "This Side of the Truth," which he co-wrote and is co-directing with someone named Matthew Robinson. Check out this cast: Christopher Guest, Patrick Stewart, Jennifer Garner, Jonah Hill, Jason Bateman, Rob Lowe, Jeffrey Tambor, Tina Fey, John Hodgman, and of course, Karl Pilkington, his biggest curiousity. Go to his site for the madness.
Spaking of Bateman ("Hancock") and Tambor ("Hellboy II: The Golden Army"), while promoting their new films, these two alums of TV's "Arrested Development" have let it slide that a movie adaptation of the beloved-but-canceled show is actually going to happen next year, says CHUD.