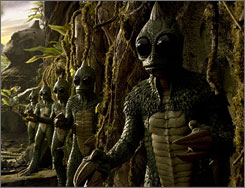 Remember the cheesy live-action Sid & Marty Kroft Saturday morning TV show "Land of the Lost"? Will Ferrell is hoping that you do because he's starring in it (although it's not a family in peril anymore, just him and two other adults–weird). Let's just hope this is better than "Bewitched." Universal Studios has just released a photo of what the creepy, island-dwelling Sleestaks will look like. (see right)
Dark? Comedy? Coens? I'm in. Yahoo! Movies reports that "Burn After Reading," a dark spy-comedy from Oscar-winning directors Joel and Ethan Coen, will open this year's Venice Film Festival. The movie, which stars George Clooney, John Malkovich, Brad Pitt, Frances McDormand and Tilda Swinton, will have its world premiere Aug. 27. The movie is the story of an ousted CIA official whose memoir falls into the hands of two gym employees.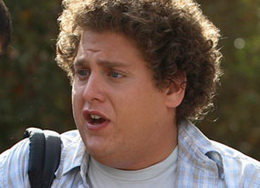 Again, I have to say to Transformers fans: "You take your movies based on talking robot toys too seriously!" EW.com says "Superbad" star and Oscar presenter (ha!) Jonah Hill is in talks to play Shia LaBeouf's comic sidekick in the sequel to Michael Bay's "Transformers." Wait a minute, I thought LaBeouf was the comic role. Maybe he's the not-as-funny guy to Hill's funny-ha-ha guy. Either way, it sounds like a fine idea to me, but I don't hold these movies to the sacred Hasbro text. The first one was rather fun and funny!
After his two Spanish-language Che Guevara pics, Steven Soderbergh will direct "The Informant," starring Matt Damon. Then he will turn to his second low-budget, simultaneous DVD/theatrical/cable-release film (after "Bubble") called "The Girlffriend Experiment," which Variety reports may have a porn star in the lead role. I like Soderbergh's adventurous spirit; at least he's not content just doing "Ocean's Fourteen."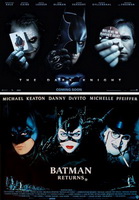 The newest poster for "The Dark Knight" seems to be some kind of tribute to Tim Buton's "Batman Returns," which featured Michael Keaton, Danny Devito, and Michelle Pfeiffer evenly spread out horizontally. The excellent Film Experience Blog compares the two and has a poll to vote for your favorite Batman incarnation. In other bat sightings, a Joker-vandalized trailer was released to the press this week, which if you pay close attention, has a lot of really funny stuff in it. Click here to check out "The Dork Knight."
One of the most interesting directors working today, Fernando Meirelles ("City of God," "The Constant Gardener") has just been added as a last-minute Cannes film, according to the Toronto Star,  and will also compete for the festival's Palme d'Or prize, unusual for an opening-night movie. Starring Julianne Moore, Mark Ruffalo, Danny Glover, Gael Garcia Bernal, and Sandra Oh, "Blindness" is about an international epidemic that causes–you guessed it–blindness. Many of the actors wore contact lenses that blocked their vision. See the trailer below.
[revver 807798 nolink]
In the 2007 movie "Transformers," the Autobot scout Bumblebee helps Sam (Shia La Beouf) get laid while disguised as a 1976 Chevrolet _____.