Besides the fact that it mentions three movies from my Top 10 Flops Turned Classics list, I love this great article by Variety's Anne Thompson about why "Speed Racer" flopped so badly at the box office. Here's the best three quotes:
1. "Sometimes filmmakers who are experimenting with something new wind up leaving moviegoers behind. Over time, movies like "The Wizard of Oz," "Citizen Kane" and "Blade Runner" grew in critical and popular esteem."
2. "The pic's soda-pop look might have worked better with older smarthouse audiences."
3. "Little kids and their parents may not have been the best guinea pigs for a brand-new art form."
Anne also has the best-researched story I've read on just what sort of contribution Edward Norton made to the script of "The Incredible Hulk."
"['The Happening'] is not merely bad. It is an astonishment, so idiotic in conception and inept in execution that, after seeing it, one almost wonders whether it was real or imagined."
That's New Republic senior editor Christopher Orr, who, as a public service, has posted a hilarious, spoiler-heavy, 18-point article that dismantles M. Night Shyamalan's newest misfire, "The Happening," noting that it is meant as an alternative to anyone actually seeing the movie themselves. Many of you will not want to waste your money for some morbid trainwreck curiosity, but I'm always intruigued by A-List trainwrecks. For example, I saw "Battlefield Earth" on opening day. For everyone else, this should suffice.
In the WTF? category: Wanna visit a website promotiong the Howard Shore – David Cronenberg opera (!) based on the 1986 movie "The Fly."? Here's the link.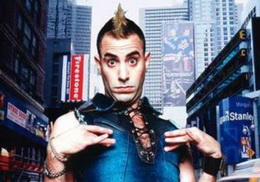 Collider says that Bruno, the last character from Sacha Baron Cohen's brilliant "Da Ali G Show" to get his own feature film (after "Borat" and "Ali G Indahouse"), has a release date: May 15, 2009, the same day as Ron Howard's "Da Vinci Code" sequel (even though the book came before "Da Vinci") "Angels & Demons." Talk about wicked counter-programming. And, yes, "Bruno," about a gay Austrian fashion reporter, spent some time filming in my home state of Kansas earlier this year. Can't wait!
Like to argue about Top 10 lists? We do. Here's some more from AFI, courtesy /film. The American Film Institute has broken down America's 10 Greatest Films in 10 Classic Genres. My beefs: "Shrek" in the Top 10 best animated films? 1983's "Scarface" may be oft-quoted, but its still an overlong, obvious bore. Ditto for "A Few Good Men."
J.J. Abrams, the man behind ABC's "Lost," "Cloverfield," and the much-talked-about "Star Trek" reboot (May 2009), has two other projects in the pipeline. FOX-TV will debut his new sci-fi series "Fringe" this fall and he just bought a New York Times article to produce as a feature film. The Hollywood Reporter says: "The Times feature, which ran Thursday and was written by reporter Penelope Green, describes an Upper East Side luxury apartment on Fifth Avenue that the occupants had redesigned to include hidden compartments, messages, puzzles, poems, codes and games for their four preteen kids."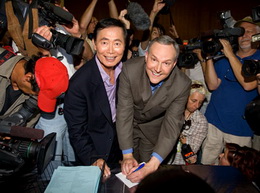 In other vaguely-related news, the original Mr. Sulu from "Star Trek" has just taken advantage of California's new law that allows couples to obtain licenses for same-sex marriages. "I think it's a glorious California morning to make history," George Takei said on Tuesday. "Congratulations to all of us: May equality live long and prosper."
The 71-year-old actor and his 54-year-old partner have been together for 21 years. Takei said the couple will wed on Sept. 14.
You go, girl!