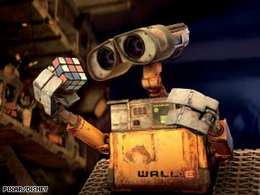 Sorry this is so short this week, but I have no Internet access in the one room of my house that I'm living in right now…all apologies.
After seeing the impressive new sci-fi movie "Wall-E," I am convinced that it the only thing that makes it a "kids" movie is that Pixar studios has released it. Charlie Chaplin films were never considered kids movies, and neither were serious science-fiction works like "2001: A Space Odyssey." Yet some people must prattle on and on about how the youngsters will receive "Wall-E" since it depicts a bleak future for mankind.
My answer: They'll be just fine. And probably the better for it. Kids can swallow far-out premises and socio-political commentary a lot easier than us adults because their opinions and biases are not as ingrained as ours yet. So then, the perceived notion of what our kids like and don't like is clouded by our own political opinion of the ideas presented in "Wall-E." Don't believe me? Just look at this thread at CNN.com where the comments end up being more about the adults' opinions than their actual kids' thoughts. What's even better is when the adults try to speak for their kids, inserting all kinds of stuff you know they never said. My advice is take one and take them all. It's a well-told story with a lot for anyone, regardless of age, to talk about.
From /film:
"Hearts of Darkness" was a great documentary that chronicled the making of Francis Ford Coppola's epic war film "Apocalypse Now." "Rain of Madness" is a mockumentary chronicling the fictional war movie that is the subject of the upcoming Ben Stiller comedy (that's getting a lot of hype right now), "Tropic Thunder." Here's the trailer for it; a movie that doesn't actually exist:
I love Werner Herzog, and apparently, so does everyone else, because the cast for his remake of Abel Ferrara's "Bad Lieutenant" with Nic Cage is getting enormous…and fast. Val Kilmer, Fairuza Balk, Jennifer Coolidge, Vondie Curtis Hall, Xzibit, Eva Mendes, Brad Dourif are all on board. Check out the Hollywood Reporter article. Again, I wonder why this has to happen, while simultaneously rooting for Herzog.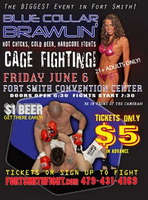 From imdb.com:
This is freakin' hilarious.
The Smoking Gun website has posted copies of ads used to lure thousands of Arkansans to staged events in Texarkana and Fort Smith for Sacha Baron Cohen's latest movie, Bruno, based on his TV character, a gay Austrian interviewer who specializes in entertainment and fashion topics. The ads promised one-dollar beer, "hot chicks" and "hardcore fights." As Tsg reported, both events ended with two male wrestlers "tearing each other's clothes off and, while in underwear, kissing down their opponent's chest."
The display, said Tsg, "triggered Fort Smith fans to throw chairs and beer at the ring." Cohen's "Blue Collar Brawlin'" website, which promoted the events, shuttered after the filming. Tsg discovered they they were registered to Peto Philer of Algeria.