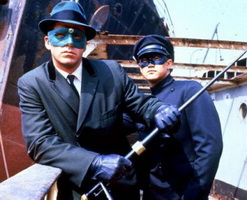 Despite the initial rumor, the under-development big screen adaptation of DC Comics' "Green Lantern" is still underway, and CHUD says its not comedic and will not star Jack Black.
In other green news from CHUD, Evan Goldberg and Seth Rogen (who wrote "Superbad") are still thinking about what tone to take with their "Green Hornet" adaptation, which stars Rogen in the title role.
From bad ideas for adaptations to bad sequel ideas: MTV says "Beverly Hills Cop 4" will star Eddie Murphy, be directed by Brett Ratner, and possibly be a PG movie aimed at kids. Y' know, like "Dr. Doolittle" and "Daddy Day Care." No Axel F-bombs? I have a feeling they took the Ratner quote the wrong way and are trying to stir up controversy.
Speaking of sequels, MTV also says Brick Tamland (Steve Carell) is absolutely down for an "Anchorman" sequel, which is in the works. Hopefully, it will be funnier than the original, which was a great idea that ran its course without any plot to speak of.
Brian DePalma will direct a movie based on the killings of The Boston Strangler, says the Hollywood Reporter. If it's anything like his saucy adaptation of "The Black Dahlia," I'll be the only person in America smart enough to like it.
Martin Scorsese has an HBO project called "Boardwalk Empire," and one of the "Sopranos" team has just been hired to write it, reports Variety.
Variety also says that Bruce Willis will follow in the hallowed footsteps of such great videogame adaptations as "Resident Evil," "Doom," and "Tomb Raider" when he stars in a movie based on some videogame called "Kane and Lynch." Too bad Uwe Boll is not directing.
A brand new "redband" (R-rated) trailers for a much-anticipated movie has just hit the Internet: The Coen Brothers' foll-up to Best Picture winner "No Country for Old Men" is "Burn After Reading," a (what else?) dark comedy about two employees at a gym (Brad Pitt and Frances McDormand) who come across CIA secrets. John Malkovich, Tilda Swinton, and (who else?) George Clooney co-star. iTunes has the trailer.