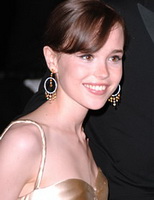 Well, the same site that was reporting last week that "Superbad" star Jonah Hill was in talks to star in "Transformers 2" is now saying that he won't. … Hot off her recent Oscar nomination for "Juno," Variety says Ellen Page will star in a new BBC Films adaptation of Charlotte Bronte's "Jane Eyre," scheduled to start shooting in the fall, but currently with no director attached. … The Hollywood Reporter says James Caan left David O. Russell's political comedy "Nailed" three weeks ago because of a spat with the notorious director about the proper way for his character to choke on a cookie. James Brolin (for what his son Josh is up to, see below) will replace him and Kirstie Alley will play a veterinarian who fails to remove a nail from the head of her niece (Jessica Biel) in the movie. When Biel goes to Washington to fight for better health care, she falls for congressman Jake Gyllenhaal. "Nailed" is from the guy who brought us "I Heart Huckabees" and "Three Kings," so be prepared for anything.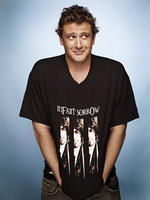 I've been following this movie pretty closely, even though I know I will eventually be disappointed, but director Zack Snyder ("300") has posted his second video journal from his adaptation of Alan Moore's revered graphic novel "Watchmen." This one centers around the costume design, and oh man, it looks good. If only a six-hour movie was possible, then I might be more confident about the content. … Not long after completing "Forgetting Sarah Marshall," Jason Segel pitched his idea for a Muppet movie and got a greenlight! His affection for Kermit and company is obvious, because MTV is reporting he's written a cameo for Charles Grodin, who played the lead in "The Great Muppet Caper," and has been in only two movies in the last 15 years. This just proves Segel is truly the shit.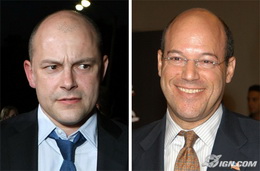 By now, you know Oliver Stone (of "World Trade Center" fame, might I add) is making a move about George W. Bush simply called "W." I'll let you decide for yourself what kind of tone he will take, but has there ever been a President whose place in history is this obvious before his last term is even over? Here's the amazing cast; chew on this for awhile:
Josh Brolin … George W. Bush
Elizabeth Banks … Laura Bush
Thandie Newton … National Security Advisor turned secretary of State Condoleezza Rice
Ioan Gruffudd … Tony Blair
Rob Corddry (wow, quite a step up from "Harold and Kumar")… Ari Fleischer
James Cromwell … George Herbert Walker Bush
Ellen Burstyn … Barbara Bush
Jeffrey Wright … General Colin Powell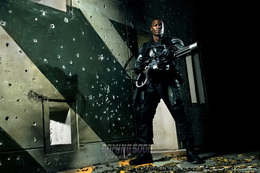 Scarlett Johansson and Zooey Deschanel buck the singing actor's trend and make interesting music … U.K. VJ duo Addictive TV remixes the entire "Iron Man" movie into one song using video and sound effects from the film. … Stephen Sommers, who has a pretty good sense of humor and also directed "The Mummy" movies, is doing a live-action adaptation of "G.I. Joe" that has a lot of people excited. I was never into that cartoon as a kid, so I could care less, but a lot of nerds are buzzing. JoBlo has some exclusive pictures and a look at some of the cast, from Dennis Quaid and Sienna Miller to Adewale Akinnuoye-Agbaje (Mr. Eko on "Lost").
Finally, here's a movie I'm excited about: "Australia," which features Hugh Jackman and Nicole Kidman as ranchers in World War II from guess where who get caught in a Japanese bombing, is coming out November 14th. Director Baz Luhrmann ("Moulin Rouge"). I'll let iTunes explain how his video podcast series, already underway, is upping the ante for fans and filmmakers:
Every few weeks through October, a new podcast episode from Baz and his production team will introduce you to another aspect of moviemaking, starting with on-set still photography, then moving on to costume design, cinematography, scoring, and more. You'll get insights from the artists at work on "Australia," watch them in action, view footage the rest of the world hasn't seen yet, and follow along as the movie comes together.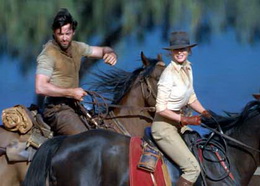 Five of the episodes arrive with something extra: a creative challenge for you. Each time one of these episodes is released, you'll have three weeks to complete the challenge and post it to the Apple Student Gallery. If your project is one of the best (10 from high schoolers and 10 from college students), you'll win an iPod shuffle, iPod nano, iPod touch, or a MacBook Pro. And if your work is chosen as the most creative of all, you'll be going on yet another kind of adventure—a trip for two to Australia on Qantas Airways. Five challenges mean you've got five chances to win.
Oh, and one more thing. Submit the top project for the final challenge, and Baz himself will plan your trip to Oz, meet you there, and take you along on the promotional tour for the film in the U.S. Your project will even be included on the DVD release of "Australia."