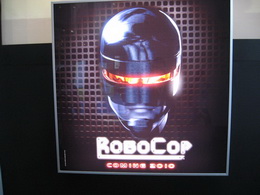 All I can say about the picture to the right (opening in 2010) is no, no, no, no, no, no, no, no, no, no, no, no, a thousand times no. I wouldn't buy that for a dollar!
IESB.net has some seriously stupid news from the Marvel Studios camp. Despite the $535 million success of "Iron Man," they are reporting that negotiations between director Jon Favreau and the studio are stalling because Marvel refuses to pay him a decent, deserved amount of money. Along with Robert Downey, Jr., he is half of what made that film a better-than-average superhero flick. Without Favreau, you can kiss your perfect blend of drama and comic timing goodbye.
Speaking of Downey, Jr., ComingSoon says that he may play Hugh Hefner in an upcoming biopic, if Hef has his way. Brian Grazer is producing and, assuming he is finished with "Beverly Hills Cop 4," Brett Ratner will be directing. Is it just me or does this sound like a bad, bad idea?
In other Marvel news,  Collider reports that "The Incredible Hulk" director Louis Leterrier is talking about a huge Blu-ray DVD release for the movie, with 70 additional minutes. He also comes clean about the spat with star Edward Norton and the bigwigs at Marvel. Maybe a longer running time would have allowed more character development (more character didn't hurt "Iron Man"). Hell, I might even watch the movie again if it were the "Norton Cut."
Seth Rogen (duh.) and Jay Baruchel (the lead in the great cancelled TV show "Undeclared") will star in the action comedy "Jay and Seth vs. the Apocalypse" for Mandate Pictures, Variety reports. Man, I love these guys, but I wonder when the burnout will happen and fatigue will set in.  Rogen has a lot of stuff on his plate right now. The good news is he and pal Evan Goldberg (who co-wrote "Superbad" with him) are writing the script as well.
"He did two films about Iwo Jima back to back and there was not one black soldier in both of those films," Spike Lee told reporters at Cannes. "Many veterans, African-Americans, who survived that war are upset at Clint Eastwood. In his vision of Iwo Jima, Negro soldiers did not exist. Simple as that. I have a different version." Eastwood's response? "A guy like that should shut his face." Read the full story at ABC News.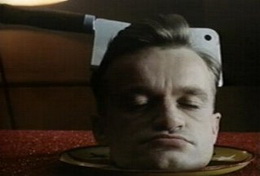 Our friend Reed over at Fighting the Youth (who also has a completely unrelated but very funny blog about combining band names with books) has just posted a very cool Top 10 Underdog Movies. He says he's "borrowing the format from Scene Stealers as a respectful homage," but I wonder if he knows that our Top 10s are a disrespectful ripoff of David Letterman (back in the mid-80s when he used to book Hunter S. Thompson and Harvey Pekar!).
He also found an updated list of the most expensive movies ever made at Mental_Floss. This list you can't really argue about, it's just the numbers – kind of like the Billboard awards. There they actually add up album sales, nominate the top five sellers in each category, and then give the award to the one who sold the most records. That way there's no suspense, or (as they call it in some parts) reason to watch.