Bizarre casting news from Quentin Tarantino's "Inglorious Bastards" (but not really that bizarre when you consider its the guy who gave new life to John Travolta's dead career): Mike Myers will play British military mastermind General Ed Fenech in QT's much-anticipated World War II mercenary pic. That's probably the best news Myers could have after that whole "Love Guru" fiasco. Also in is Samm Levine, whom you probably don't know or care about unless you watched one of the greatest shows ever on TV, "Freaks and Geeks." For those that do, he played Steve Martin-loving geek and amateur ventriloquist Neal Schweiber.
You probably thought this was understood already, but now the deal has been inked. "The Lord of the Rings" screenwriting team is writing "The Hobbit." Peter Jackson, Fran Walsh, and Philippa Boyens will join director Guillermo del Toro to pen the screenplays for the two planned movies based on J.R.R. Tolkein's "Rings" prequel. EW.com reports that they group has already begun writing. Fall 2009 is the planned start date for filming, and the two films are due for Christmas 2011 and Christmas 2012. I'm just wondering if there is enough story to merit two entire pictures. And where will they divide them?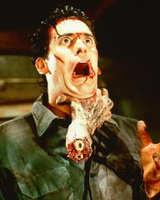 In our continuing series on pointless remakes, following "Bad Lieutenant," "Nightmare on Elm Street" (Robert Englund wants Billy Bob Thornton to play Freddy Kreuger; no kidding!), "Red Dawn," and "Robocop," here's another movie that doesn't deserve to have its good name ruined: "Poltergeist." Do you remember the Sam Raimi-produced low-budget horror flick "Boogeyman"? Unfortunately, I do. (Here's my original review.) Juliet Snowden and Stiles White, the same duo that crapped out that not-quite-scary movie, have been tapped to write a remake of Tobe Hooper's "Poltergeist" from 1982 (which Steven Spielberg may or may not have done a lot more than actually write).
Quick directing bits: Sam Raimi says he's ready to write and direct Bruce Campbell again in another "Evil Dead" movie, even as he's prepping "Sleeper," an Ed Brubaker-written  DC Comics adaptation, with Tom Cruise … Darren Aronofsky ("The Fountain," "Requiem for a Dream") is reportedly directing said pointless "Robocop" remake … Alex Proyas ("Dark City") will write and direct "The Unpleasant Profession of Jonathan Hoag," based on a Robert Heinlein novela … and lastly, Vin Diesel is directing a 20-minute prequel to "The Fast and the Furious," that will star himself and probably go straight to DVD. Yaay.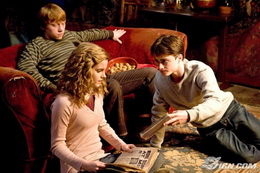 Since the sudden move of "Harry Potter and the Half-Blood Prince" to July 2009 (even after a recent EW cover story on anticipated fall movie releases!), Warner Bros. president Alan Horn has released the following statement:
Many of you have written to me to express your disappointment in our moving Harry Potter and the Half-Blood Prince to Summer 2009. Please be assured that we share your love for Harry Potter and would certainly never do anything to hurt any of the films. Over the past 10 years, we have nurtured and protected each film, and the integrity of the books upon which they are based, to the best of our ability.
The decision to move Harry Potter and the Half-Blood Prince was not taken lightly, and was never intended to upset our Harry Potter fans. We know you have built this series into what it is, and we thank you for your ongoing enthusiasm and support.
If I may offer a silver lining: there would have been a two-year gap between Half-Blood Prince and the much-anticipated first part of Harry Potter and the Deathly Hallows, which opens in November 2010.
So although we have to wait a little longer for Half-Blood Prince, the wait from that film until Deathly Hallows will be less than 18 months. I am sorry to have disappointed you now, but if you hold on a little longer, I believe it will be worth the wait.
Alan Horn
President, Chief Operating Officer
Warner Bros.
After I spoke with "Speed Racer" and "Matrix" VFX supervisor John Gaeta at Siggraph 2008 last week, I got the distinct impression that Hollywood is holding film artists to virtually impossible deadlines. He was pretty pissed. We're talking constant 100-hour work weeks and the like. So if Warner had to move this date, it is probably way better for the movie creatively. That, and their summer 2009 was probably shaping up to be pretty weak and they needed another tentpole release.