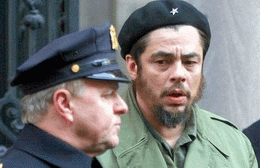 The official lineup for the 61st Cannes Film Festival was unveiled yesterday in Paris. "Changeling," starring Angelina Jolie and directed by Clint Eastwood, and Steven Soderbergh's two Che Guevara films, were last minute additions. Soderbergh's films, "The Argentine" (starring Franka Potente, Catalina Sandino Moreno, and, of course, Benicio del Toro in the title role) and "Guerrilla," (starring all three again, plus Julia Ormond, Benjamin Bratt, and Lou Diamond Phillips) will screen back-to-back at a running time of four hours on May 21. I suppose if you started with Walter Salles' "The Motorcycle Diaries" (which concentrated on the revolutionary's formative years),  one could have six and a half straight hours of full-on Che action. I don't think anyone has undertaken this kind of a mammoth project on the same subject since, well, Eastwood put out "Flags of Our Fathers" and "Letters From Iwo Jima" four months apart in 2006.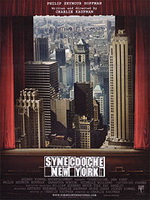 You know, I am excited that summer is right around the corner and the big event movies are finally here, but every year around late August, I need an antidote. It is nice to know now what some of the big-time heavyweights will be that will arrive in the Fall.
One movie in the main competition that I'm super-excited about is Charlie Kaufman's directorial debut, "Synecdoche, New York" (which wins the award for the most unpronouncable film title ever) starring Philip Seymour Hoffman, Michelle Williams, Emily Watson and Catherine Keener. Kaufman is well-known for writing "Being John Malkovich," "Eternal Sunshine of the Spotless Mind," and "Adaptation," but this is the first time he has also stepped behind the director's chair. Hell, it worked for Tony Gilroy, a screenwriter whose first foray into directing last year was "Michael Clayton," which won him an Oscar nomination for Best Director and put him at the forefront of A-List "serious" film directors. Of course, Kaufman already has his Oscar (for writing "Eternal"), so expectations are even higher. I don't care what the film is about, I'm so there already.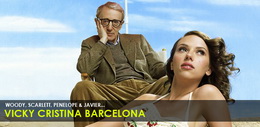 Steven Spielberg's "Indiana Jones and the Kingdom of the Crystal Skull" screens out of competition on May 18 and it will be his first trip to Cannes since 1985's "The Color Purple." Woody Allen's "Vicky Cristina Barcelona," which stars Scarlett Johansson and Penelope Cruz, is screening out of competition. This year, Sean Penn presides over the jury, along with Natalie Portman. Other big names in the lineup are Wim Wenders with "The Palermo Shooting," Atom Egoyan with "Adoration," and Walter Salles and Daniela Thomas' "Linha de Passe." Marina Zenovich's documentary "Roman Polanski: Wanted and Desired," which competed in Sundance, will get a special screening.
Also of note: Ang Lee is directing a movie revolving around the Woodstock music festival. From a sensationally-titled article on the movie in Yahoo!: "Taking Woodstock" centers on the colorful life of a Greenwich Village-based interior designer and part-time Catskills hotel manager who headed the Bethel, N.Y., Chamber of Commerce. He issued the permit for the legendary 1969 concert on his neighbor Max Yasgur's farm. It is based on Elliot Tiber's 2007 memoir "Taking Woodstock: A True Story of a Riot, a Concert, and a Life," which he wrote with Tom Monte.
And, from Variety: "Forgetting Sarah Marshall" helmer Nick Stoller is reteaming with Judd Apatow for the comedy "Get Him to the Greek," with Jonah Hill and Russell Brand attached to star. Stoller has been tapped to write and direct the laffer, which centers on a fresh-out-of-college insurance adjuster (Hill) who is hired to accompany an out-of-control rock star (Brand) from London to a gig at L.A.'s Greek Theater.

Finally, from MTV.com: After co-directing "Sin City" and single-handedly helming the upcoming adaptation of Will Eisner's "The Spirit," Frank Miller has decided that the only person he'd want directing a "Hard Boiled" movie is himself. "I'm in love with directing," he gushed. "I've found a way to expand my career. Comics and directing are really two sides of the same coin. That's what Robert Rodriguez taught me…good drama is good drama."