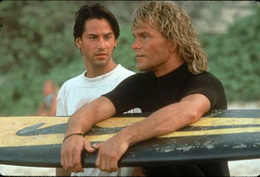 Seventeen years after "Point Break" washed up in movie theaters, surf's up for the sequel! Are they kidding? I cant imagine it will star either Keanu Reeves or Patrick Swayze. From the Hollywood Reporter: "Point Break: Indo," with Jan de Bont aboard to direct. An Asia-based follow-up to director Kathryn Bigelow's original, which starred Reeves as an FBI agent casing a gang of surfer bank robbers. The new film will take place 20 years after the disappearance of one of the criminal surfers (Swayze).
The Latino Review isn't completely sure, but either Nightcrawler or Beast will be making an appearance in the upcoming X-Men origins movie "Magneto."
Here's some bizarro news from Variety: Werner Herzog is directing a remake of Abel Ferrara's NC-17 "Bad Lieutenant" with Nicolas Cage in the Harvey Keitel title role. My first question is why remake a badass contemporary movie. Does it really need updating? On the other hand, it's Herzog, so I'm intruiged. Looks like Herzog is also teaming up with David Lynch!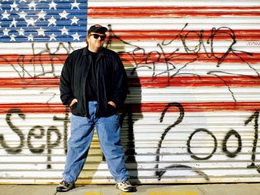 Couldn't every documentary by Michael Moore be considered a sequel to the one before it? I mean, they all give us one man's POV on current events, right? /film is reporting that a sequel to the $200 million-grossing "Fahrenheit 9/11" is on the way. Details are being kept tightly under wraps but Vantage Paramount, who's distributing the movie, claims it has "global appeal". All we know is the sequel will pick up where "Fahrenheit 9/11" left off.
"Transformers 2" and the Steven Spielberg/Peter Jackson effort "tintin" are both getting 3D releases, according to Comics2Film.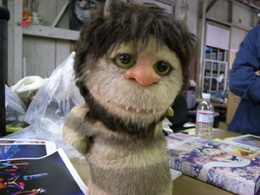 If you read Maurice Sendak's "Where the Wild Things Are" book when you were a kid, then you are as pumped for Spike Jonze's film adaptation. Here is a peek at one of the creatures from Jim Henson's Creature Shop, courtesy Kanye West's blog (?). 
Fantasy author J. Scott Savage quoted me in a recent blog where he tries to understand why "Speed Racer" tanked so hard at the box office. It's nice to know I'm not the only one who appreciates artists that try to break new ground. Too many people in this country can't just sit back and laugh at audacity for audacity's sake.
SilentBobSpeaks has released the first still from Kevin Smith's new movie, starring regular Jeff Anderson and Seth Rogen. (Big surprise: hockey!) I'll let Smith himself tell you the rest: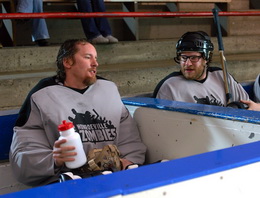 Been knee-deep in "Zack and Miri Make a Porno" type stuff, preparing for our first official test screening on Tuesday night (somewhere in the midwest). The flick's current running time is 1:45, so we'll see if putting it in front of an audience sheds light on any further possible cuts. Fingers crossed the flick plays great.
When I get back from the trip back east, I think I'll be ready to post the first internet-only "Zack and Miri" teaser. I'll let you know when it goes live at www.quickstopentertainment.com (home of SModcast).