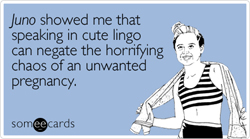 Ever wonder why the TV networks try to stress a heavy amount of starpower and "the biggest movies of the year" to promote every Oscar telecast, even though neither is really true? I mean, this year, Angelina Jolie, just about the biggest celebrity name in the world, actually gave an Oscar-worthy performance ("A Mighty Heart") and ahe still couldn't even get nominated! If I was ABC, though, I wouldn't worry too much about their ratings– the Saoirse Ronan fancliub will turn out to watch in full force.
"Juno" is the only movie nominated for Best Picture that has even reached over $100 million in box office. Weirdly, enough, that makes it one of the biggest blockbusters of the season.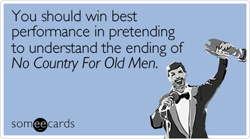 Someecards.com has designed some very funny E-Cards for you, the Oscar fanatic, to send to your friends. The great thing about them is they are completetly smart-assed, old-timey cards made from what looks to be clip art– and each one of them has a pretty good, honest Oscar dig built right in.
Ironically, all the E-Cards poke fun at the Oscars for being a snooty, elitist kind of affair, yet in order to get the joke of most of these cards, you would have to have seen most of these snooty, elitist movies. So if you know someone who needs an Oscar laugh this weekend before the big event, head on over to Someecards.com and pick out the E-card that best suits you.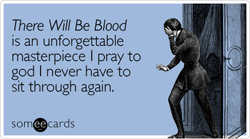 On second thought, go ahead and send an Oscar E-card with a nice little invitation to attend the Scene-Stealers Oscar Party (where we are giving away hundreds of dollars and movie prizes) or enter our 2008 Oscar Pick 'em Contest (where we are giving away a 6-month subscription to Netflix)! These cards would be the perfect compliment to an ebulletin to all your friends!
See you on Sunday!
[youtube YVtZS8oAcoE nolink]