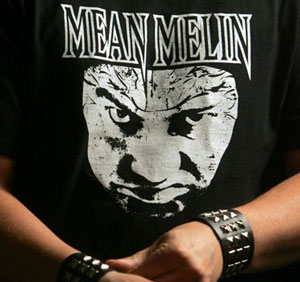 Well I never thought I'd make MEAN MELIN t-shirts again, but the Gods of air guitar have intervened in my life once again!
Saturday night at the House of Blues in LA, I placed second in the US Air Guitar Championships, one-tenth of a point behind the fantastic and hugely supportive new US Air Guitar champion Lt. Facemelter. His first words to me after getting straight perfect 6s in the final round were "You better go to Finland!"
Well, dear friends, I can't let the Lt. down. Tomorrow morning I fly to Finland to enter the dark horse competition in Oulu, Finland the night before the Air Guitar World Championships for one last chance at the world stage!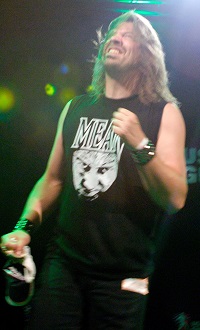 The plane ticket (especially at this late date) was painfully excessive, but as current world champ Nordic Thunder said to me after the competition on Saturday: "It's only money, dude. You have to go." He's right.
Ever since I started competitive air guitar back in 2009, this has been the dream. Since then I've performed in five straight national championships and this is the closest I've gotten to the top. My friends and family mean the world to me, and the air guitar community is one of the coolest and most supportive on the planet, so I'm making a metric crap-ton of new MEAN MELIN t-shirts to send out to my friends and supporters everywhere in hopes of raising some money to help me make the trip.
All you have to do is decide how much you want to donate to the Finland fund, tell me what size and how many shirts you want, and I'll ship 'em to you as soon as they are done. I am asking for a minimum of $20 per shirt, but you can donate more if you like. Any amount is appreciated.
Thank you to everyone over the past five years who has made this crazy journey so much fun and keep an eye out at my Facebook page and @SceneStealrEric for updates! much love, MEAN MELIN
UPDATE: I won the World Championship! Holy crap! Thanks to everyone who has donated. I'll keep this open until Monday 9/2/2013 and then place the order. All proceeds will go to the credit card bill for the plane ticket! Thanks so much!