Ever seen the documentary "Lost in La Mancha," which follows Johnny Depp and director Terry Gilliam's seemingly cursed and ill-fated attempt to film "The Man Who Killed Don Quixote"? His own version of the Quixote legend (taken from Cervantes' legendary novel) was plagued by every production delay possible, and while it made for a great "making-of," the movie itself never was finished. Well, it seems Gilliam and Depp are at it again. According to ShowbizSpy, after regaining rights to the screenplay, he has entered preproduction yet again, with Depp still onboard to star.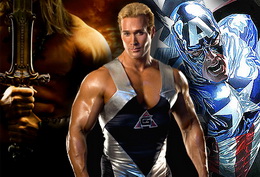 This is funny: /film reports that this dumbass "American Gladiator" (who calls himself Titan) thinks he going to be cast as Conan the Barbarian and Captain America. This is great, because he gave the same story two months ago on another talk show. Listen to this quote: "Today's not even an audition. They're bringing me in today just to sit me down and talk. How about that? It's even better than an audition!" Priceless.
By all accounts, Quentin Tarantino's WWII drama "Inglorious Bastards" is a great script; it has attracted top-notch talent like Brad Pitt already. Tarantino has already proven himself to be a visionary (albeit one with severe fetishes such as starring in his own pics), so why is he now offering parts in his films to other directors-who-can't-act? He was sooooo good in "Grindhouse/Death Proof," that QT's pal, horror dreckmeister Eli Roth (whose fake trailer for "Grindhouse" was suprisingly the best, in all fairness) is on deck to play the part of a baseball-bat weilding Nazi hunter, says Variety. Fantastic. At least he'll be too busy to hoist "Hostel 3" upon us.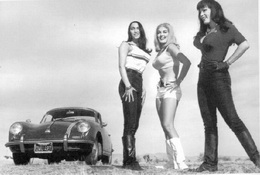 More QT news:
According to The Daily Swarm, Britney Spears was apparently chosen by the director to play dancer Varla in a remake of the 1965 cult film "Faster Pussycat! Kill! Kill!" The original movie is a twisted Russ Meyer flick about three thrill-seeking strippers encountering a young couple in the desert. The original band Faster Pussycat (whom I saw in high school with Ace Frehley and Y&T!) was a bluesy glam band from the 80s that sang a song called "Bathroom Wall." According to the site, "Spears' character murders the boyfriend with her bare hands before taking the girlfriend hostage. The troubled singer will also have sex scenes with another girl before the drama ends in a bloodbath." Although this sounds like a lot of baseless hooey, it also plays right into QT's aforementioned fetishes, so who knows? I thought Britney was cool with letting "Crossroads" be her final statement in the arena of "acting." The site also says Tarantino is in discussions with other Hollywood stars to take the roles of the remaining two strippers, and that guy is liable to talk just about anybody into anything.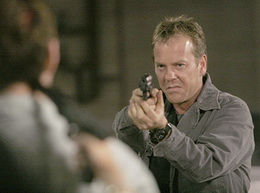 An upcoming standalone TV movie called "24:Exile" (that was only allowed to be made during the show taking a season off during the writer's strike) will serve as a prequel to the upcoming seventh season of "24," starring Kiefer Sutherland. Movie fans may be happy to know that this gave the series' creators, who have always been tied to the 24-hour realtime format that gives the show its name, confidence that a feature-length movie could be made, albeit only if the show is not also being produced at the same time, says THR.com. Talks are already underway for an eighth season of "24," which hopefully features no "Jack's daughter/rabid cougar" moments, no presidential assassinations, no nuclear bomb threats, and no stereotyped ethnic terrorists. Because we know it'll be a Guantana-torturous good time!
"Zack and Miri Make a Porno," due out Oct. 31 from director Kevin Smith, just won its appeal for an R rating from the MPAA. This marks another victory for Smith, whose debut "Clerks," was rated NC-17 for bad language only, and was later reduced to an R on appeal without changing a word. The same thing has just happened on his new flick, which stars Seth Rogen and Elizabeth Banks as best friends and roommates who try to make a homemade porn flick to dig themselves out of debt. NewsAskew has more than enought detail on this development.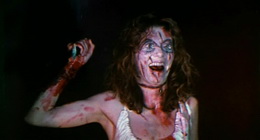 David Gordon Green, who made a name directing arty, low budget features like "All the Real Girls," and just put out "The Pineapple Express" today, is next going to tackle a remake of Dario Argento's Italian horror classic "Suspiria"? Huh? There is arguments over this film, but not debating whether its happening or not, just debating whether Natalie Portman is going to be in it or not. BloodyDisgusting says yes. AICN says no. Either way, WTF is Green doing these days? Is he the new John Sayles, only uniquely able to work in the studio system as well as outside of it?