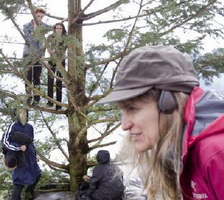 Update: Looks like Chris Weitz will be directing "New Moon." OK, I'm the first to admit that the box office juggernaut "Twilight" was not a groundbreaking movie or anything. But what surprised me about it was how convincing the love story was. Yes, it was shot on a woefully low budget and it was missing a largescale conematic vision. But for a movie based on a teen-oriented book, the relationships between characters were surprisingly well-formed.
I chalked that up to the direction of Catherine Hardwicke, who navigated the tricky waters of teen alienation so well in "Thirteen," and who was just fired from directing the next installment of the popular vampire series by Summit Entertainment. I guess that's how they treat someone who made a $37-million-dollar movie that has so far grossed over $138 million. Nice.
This story on Deadline Hollywood broke the news last night, and from the looks of things, they fired Hardwicke because she was "difficult." What director isn't? Filmmaking is a series of compromises and they gave her no budget to speak of to work with. There's a bunch of other inside industry soap-opera action in that article, and I hate reading about that stuff, but if you want the scoop there it is. I wish all movies could be made with the creative intent as the number-one priority, but obviously, that's not the way Hollywood works.
They'll probably bring in some hack-for-hire who'll do whatever they say and will spend more time on special effects than character, and the series will decline until the fourth installment finally sputters out and nobody cares anymore. Oh well, at least Hardwicke has her upcoming gig as the director of "Spider-Man" on Broadway to look forward to.