Growing up on a farm in the small town Larned, Kan., a young Hamilton Lewis used to fly his miniature U.S.S. Enterprise toy around the room and wonder how it would look flying by the camera. These days, he's an animator at DreamWorks Animation and the man who played Captain Kirk in the "Star Trek" reboot — Chris Pine — is voicing one of the main characters in his new movie.
There's no rest for a rough layout artist at DreamWorks, so the new project "Rise of the Guardians" is already in preproduction as "Kung Fu Panda 2," Lewis' latest finished film, hits theaters recently.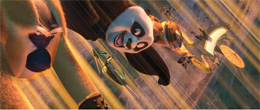 Lewis was one of six rough layout artists to work on the highly anticipated sequel, and he understands that's not a job title that people instantly "get" like director, editor or producer. Essentially, the rough layout artist is one of the cinematographers of an animated film.
"I am responsible for translating each sequence of the story from 2D drawn storyboards that block out the general look and feel of a scene," Lewis says, "into a workable 3D space in the computer, which will then become the blueprint for the rest of the departments down the pipeline to work on."
While some animators work on very specific elements like character effects, crowds, matte painting, lighting, and luster, what the rough layout artist does is more like old-fashioned movie storytelling. The difference is that animators are not tethered by the limitations of shooting what's in front of the camera like a traditional film cinematographer is because of the nature of computer-generated animation. Because it is all computer generated, they have full control over the movement of the "camera," the actor's "performance," and pretty much everything that's in the scene.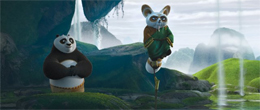 But it's not all just a bunch of super-specific technical minutiae. On "Kung Fu Panda 2," Lewis and his fellow artists worked closely with director Jennifer Yuh Nelson at each stage of the process to make sure that every sequence established and strengthened the emotional connection and visual experience for the audience.
Lewis lived in Lawrence, Kan. since he was a fifth grader, and he had a clear idea of what he wanted to do even before he graduated from Free State High School in 2005. "Back to the Future" is one of his biggest inspirations, so spending a summer taking two film classes at USC, where its director Robert Zemeckis graduated, was a natural choice.
Won over by the freedom of computer animation, Lewis finished up his senior year at Free State and applied for admission to the Ringling College of Art and Design in Sarasota, Fla. He was accepted and spent most of his time in sunny Florida sitting in front of glowing computer screens, a reality not lost on he and his classmates.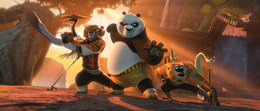 "We always joked that we could of been in Antarctica because we spent every waking hour of the day and night in the cold dark computer labs," Lewis says. "It takes a great deal of time to make animation, and a great deal of work to learn all the software and principles of animation in order to do it well."
Four years later, Lewis' senior thesis short film "Cadillac '59" (see below) was one of nine finalists nominated for a Student Academy Award, and he was interviewing at every major Hollywood animation studio on the west coast. Pixar offered him an internship and DreamWorks offered him a job, so he went with DreamWorks — and his first movie project as a rough layout artist was last year's Oscar-nominated "How to Train Your Dragon."
Even though 3D computer animation is his specialty, Lewis and his cohorts still look to classic movies and great cinematographers for inspiration. Roger Deakins, who shot "Fargo," "The Shawshank Redemption" and "No Country for Old Men," is currently a creative consultant on "Rise of the Guardians" and Lewis considers him an invaluable mentor.
"A lot of times each artist will bring in a stack of movies to look at before we even start a sequence. We'll know we are looking for specific things — a lighting key, a camera move, a cinematic style, a transitional element — and then we'll proceed to look through particular scenes and find different pieces from each movie that we like and combine them along with some of our own ideas to form something completely new," he says.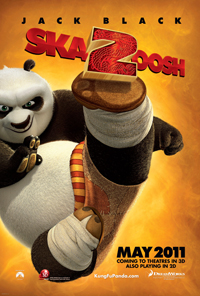 For "Kung Fu Panda 2," he and the other artists watched "Crouching Tiger, Hidden Dragon," a lot of old Bruce Lee movies, Jackie Chan movies and some Jet Li films. In particular, Lewis himself was responsible for a new sequence that calls back the training montage from the first "Kung Fu Panda," so he had to study that as well.
Since most computer animated films are in 3D these days, and "Kung Fu Panda 2" is no exception, Lewis is gaining experience in that direction as well. Part of his job is to be the first artist to conceptualize how much, where and why stereoscopic 3D will be incorporated into each sequence.
"Everything from what's in front of the screen, on the screen, or behind it is carefully coordinated to draw audience's attentions to key things," says Lewis. "so that the 3D effects serve to propel the story forward in the most organic and visually pleasing way possible."
For a 24-year-old animator, Lewis has got a bright future ahead of him. He hopes to become Head of Layout on a movie sometime in the next several years, but for now is content to keep working and spend his time off watching more movies and gaining more knowledge about his craft.
"I'm one of those guys that has an entire wall of movies, both classic and new, that I love to come home to and watch while cooking dinner and unwinding," he says.