Ok, if this is true, then I will erase all skepticism about the upcoming "The Hobbit," produced by BUT NOT DIRECTED BY Peter Jackson.  Guillermo del Toro is the absolute perfect second choice, having navigated the tricky waters of childhood/adult fantasy in the masterpiece that was Pan's Labyrinth. The man knows his stuff, and if you've ever heard or read an interview with him, he is very serious about fantasy stories. He knows how to invest time in character, and has a unique visual style that should mesh perfectly with Jackson's already-established vision for the "LOTR" trilogy. Besides, he's a dead ringer for Jackson when he used to be a bigger man, so to speak. Just look at the resemblance! Big news this morning follows:
From E! Online—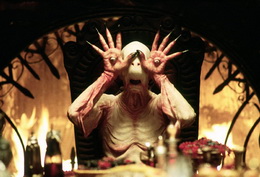 After delving into Hellboy and Pan's Labyrinth, MiddleEarth shouldn't feel like that much of a descent for Guillermo del Toro.  
The Academy Award-nominated writer-director is reportedly in talks to helm back-to-back epics adapted from J.R.R. Tolkien's The Hobbit, which, after various delays, are finally going forward with Peter Jackson set to produce for New Line Cinema and MGM. 
A rep for New Line had no comment on the purported negotiations, but del Toro's name has been on a short list of auteurs who could do the fantastical source material justice ever since the studios announced Jackson was back on board.   
"I've heard some rumblings, but nothing official," del Toro told Entertainment Weekly last month when asked if he'd been approached for the job. "I don't want to think about it because it's such an eventuality. It's the only Tolkien book I read…I read it and I loved it. So it would be a privilege." 
The fate of the Lord of the Rings prequel remained in doubt for several years while Jackson, who struck box office gold with his Oscar-winning Rings trilogy, tangled with New Line over royalties. 
Lucky for Bilbo Baggins fans, the two sides settled up last month and are ready to proceed with plans for two Hobbit films, which they're planning to shoot one after the other with a budget estimated at $150 million per picture.  
Jackson, who has been busy adapting the bestselling novel The Lovely Bones for the big screen and has signed on to share directing duties with Steven Spielberg on a series of Tintin movies, had to pass on helming The Hobbit himself.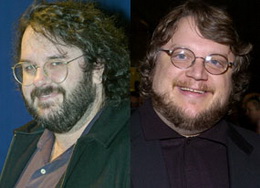 Principal photography is tentatively scheduled to begin next year with an eye on respective release dates in 2010 and 2011, but no screenwriters have been hired yet thanks to the ongoing Writers Guild of America strike, now in its 13th week.  
Del Toro, who earned an Oscar nod for his original screenplay for Pan's Labyrinth, and Jackson, who shared adapted-screenplay honors in 2004 with wife Fran Walsh and Philippa Boyens for The Lord of the Rings: The Return of the King, will oversee the writing process, whenever it comes to pass. 
Tolkien fans, at least, have been largely positive about the idea of del Toro handling their beloved dwarves and elves, although some are concerned that he might cast a dark shadow over the production.  
"Well, all I can say is I certainly can think of directors that I would not want to see touch TH with a 10-foot pole, and del Toro is NOT one of them," wrote the Watcher on LOTR supersite the One Ring. "I do agree with some others here that I fear he alone might make a very dark and disturbing version, but with P.J. on board and New Line basically really needing this film to work, I think it might be pulled off."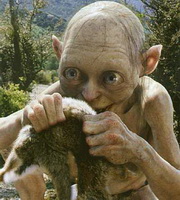 "I have hoped that P.J. and del Toro would be working together, it was only a pipe dream," mused Ari-Anna on the One Ring."And it will either be phenomenal or a bust. I am hoping for the first." 
At least he didn't come up in an old discussion of "nightmare" Hobbit directors. Those shunned included George Lucas, M. Night Shyamalan, Spike Lee (they probably didn't have to worry there), Sam Raimi, Alfonso Cuarón, Michael Bay, Tim Burton and David Lynch (again, nothing to lose sleep over). 
Before making an international splash with Pan's Labyrinth, a horror-tinged fantasy about a young girl seeking respite from her tyrannical stepfather in 1930s-era Spain, del Toro was responsible for the sci-fi thriller Mimic, the vampire-action sequel Blade II and the hit adaptation of the comic book Hellboy.
The 43-year-old filmmaker, who was mentioned frequently last year alongside Babel director Alejandro González Iñárritu and scribe Guillermo Arriaga as one of the Mexican-born masters of cinema taking Hollywood by storm, is currently in postproduction on Hellboy II: The Golden Army and recently executive produced the Spanish-language horror film The Orphanage.