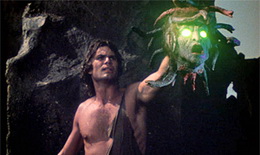 "The Incredible Hulk" director Louis Leterrier's remake of "Clash of the Titans" will be filmed on backlots with lots of greenscreen digital backgrounds like Zack Snyder's "300," and will star Sam Worthington in the Harry Hamlin-originated role of Perseus. The only cause I see for celebration is that the movie is written by Lawrence Kasdan ("The Empire Strikes Back," "Raiders of the Lost Ark," "Body Heat").
The original "Titans" was the last movie featuring the stop-motion genius of Ray Harryhausen and featured a hideous Medusa, a mechanical owl named Bubo, and the giant Kraken (found recently on my Top 10 Giant Monster Attacks! list). Zeus' son Perseus is on a quest to save Princess Andromeda and he must jump through several hoops, including capturing Pegasus and slaying the snake-haired One.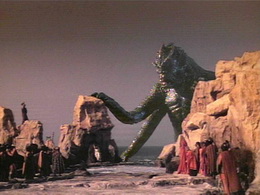 Part of what made it so creepy and unreal was the stop-motion creatures, so I don't know if straight-up CGI will be that interesting. Maybe there is a digital way to approximate the same jittery, otherworldly feel that Harryhausen's creations had. That would be cool. Leterrier's "Hulk" was just fine, a workmanlike combo of the TV show and comic, so I'm not expecting too much here, but Kasdan's presence is reassuring.
Other Greek epics in production? Tarsem Singh's "War of the Gods," in which Theseus, a warrior from Greek mythology, leads a fight against the imprisoned titans. One thing that makes this story unique is that unlike some mythological tales, the Gods fight alongside mortals. with Tarsem ("The Fall") on board, this could be visually stunning. Let's hope it's not also incoherent, like his earlier "The Cell."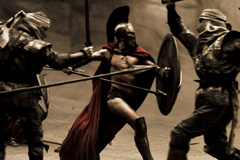 Brett Ratner's "God of War" is based on a popular videogame and takes place in ancient Greece where the warrior Kratos, who tackles mythological beasts such as Medusa, Cyclops and the Hydra, is on a quest to find Pandora's Box and destroy Ares, the God of war. with the recent announcement of the above two pictures, though, Ratner is going to have an uphill climb. This seems like the one that will benefit the most from being released first, if only because the others will probably be more visually stunning and cutting edge.
And then there's the rumored "300" sequel. (Which is really weird, considering that the 300 Spartans are all dead.) Well, it's kind of a prequel. But not really. It will take place somewhere between the Battle of Thermoplyae, which was fought during "300" and the Battle of Platea, which is the battle that was started at the end of the film. But before any of this can be filmed, Frank Miller (who's still finishing up directing duties on "The Spirit") has to complete another graphic novel. Can you say overkill?