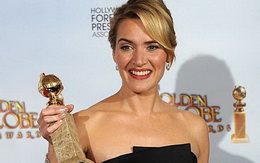 She's been nominated for five Oscars and five Golden Globes and never won, until tonight. Kate Winslet swept the dramtic film actress categories, winning for "Revolutionary Road" and "The Reader."
"Slumdog Millionaire" is far and away the frontrunner for Best Picture in February at the Academy Awards now, with its Picture/Director/Writer/Score sweep Thursday at the Critic's Choice Awards and tonight again at the Golden Globes.
Mickey Rourke countered Sean Penn's Thursday night win with a win tonight at the Globes, proving that Best Actor is a two-man race. And "The Dark Knight" director Christopher Nolan had the task of reminding the crowd of his supporting actor's great talent by accepting Heath Ledger's award both nights. Here's the winners of the 66th Golden Globes: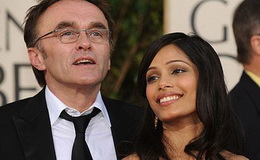 Best Picture – Drama
Slumdog Millionaire
Best Actor – Drama
Mickey Rourke – The Wrestler
Best Actress – Drama
Kate Winslet – Revolutionary Road
Best Director
Danny Boyle – Slumdog Millionaire
Best Supporting Actor
Heath Ledger – The Dark Knight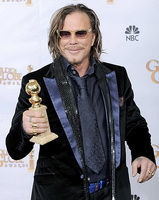 Best Supporting Actress
Kate Winslet – The Reader
Best Picture – Comedy/Musical
Vicky Cristina Barcelona
Best Actress – Comedy/Musical
Sally Hawkins – Happy-Go-Lucky
Best Actor – Comedy/Musical
Colin Farrell – In Bruges
Original Score
A. R. Rahman – Slumdog Millionaire
Best Writer
Simon Beaufoy – Slumdog Millionaire
Foreign Language Film
Waltz With Bashir (Israel)
Animation
Wall-E
Original Song
"The Wrestler" – The Wrestler
Music & Lyrics By: Bruce Springsteen
Also: 30 Rock and John Adams won a bunch of TV awards, Seth Rogen joked about doing cocaine with Mickey Rourke, Rourke used the word "balls" a bunch in his speech, his director Darren Aronofsky flipped him off, Sacha Baron Cohen called ex-husband Guy Ritchie one of Madonna's assistants, and "Slumdog Millionaire" producer Christian Colson closed out the night with what I'm pretty sure was the "f" word. Did I mention that everybody's drinking at the Globes?
Still my favorite shout-out of the night was Ricky Gervais, after Kate had won her first award for "The Reader," who joked about an episode of his show "Extras" where  Winslet–playing herself–talks about how people in Holocaust movies have "Oscars coming out their ass." "Well done, Winslet," he said, pointing to the actress while standing at the podium with a beer in his hand. "I told you. Do a Holocaust movie and the awards come, didn't I?" She guested on that series' best episode.
[youtube BYKVceNUDMw nolink]
The original episode; start at 3:27
[youtube DPTV8PZo-Tc nolink]