Well, it's finally here.
After a disastrous Cannes screening last year (in which the director referred to his cut of the film as work-in-progress) and a long gestation process of re-focusing and editing, Richard Kelly's "Southland Tales" finally has a release date.
It looks like it will be in limited release on November 9, and Yahoo! Video has the exclusive trailer for the epic sci-fi/musical/comedy today. Click here for the "Southland Tales" trailer.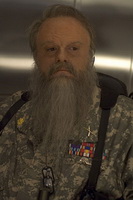 After watching it, I want to know what Kelly's fascination is with "Saturday Night Live." Amy Poehler, Nora Dunn, Cheri Oteri, Jon Lovitz, and Janeane Garofalo are all in this movie. Just from one viewing of the trailer, these personalities are distracting. I understand this is supposed to be a dark comedy, but without the full movie and enough time to let these actors sink their teeth into these characters, it's just plain weird to see them pop up in little cameos like this. (Not to mention former teen stars Justin Timberlake and Mandy Moore.)
Speaking of cameos, here's a picture of "Clerks" director Kevin Smith in bad old man makeup, also from "Southland Tales." Smith appeared with buddy Kelly on the director's commentary for the "some things are better left untouched" Re-Cut version of "Donnie Darko," and although I'm a Smith fan as well, he'll be the first to admit he's not the best actor in the world. Maybe this is all part of a bigger concept we have yet to grasp since we haven't seen the film yet!?
You know, Quentin Tarantino has a way of using actors with washed-up careers and making gold out of it (John Travolta, Pam Grier, Robert Forster, David Carradine), but Kelly's usage of these famous faces and his two male leads makes me nervous. I hate to say it, but this trailer has me worried.
By the way, the two male leads are– as you noticed from the headline– Seann William Scott and The Rock (or as he's billed in the clip, Dwayne Johnson– does this mean that after "Reno 911!: Miami" and "Walking Tall," he's finally gone 'serious'?). If I didn't know any better, I'd say this was the sequel to "The Rundown."
I don't have anything against these guys either, but in this post-apocayptic context, it seems pretty ridiculous. The Rock is supposed to be playing a big dumb Hollywood actor in the movie, so maybe that's why every look he gives in this trailer is horribly exaggerated. Maybe that was a stylistic choice– again, I'm giving Kelly the benefit of the doubt because I hate judging movies by their trailers.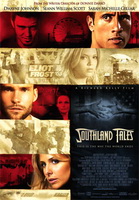 "Donnie Darko" was the perfect mix of teen angst and sci-fi and black comedy, so I'm very excited to see what Kelly's follow-up will be like. But the casting just seems so wrong all over the place and it has me anxious. I mean, I'm the biggest "Buffy the Vampire Slayer" fan, but Sarah Michelle Gellar hasn't exactly lit it up outside of that role. I want this to be the one that showcases her talent in a different way, but…I don't know.
Kelly has already written and published multiple "Southland Tales" graphic novels, which can be found here. I have puposefully avoided them so I can experience the movie as a stand-alone thing for the first time. This worked well with Darren Aronofsky's "The Fountain" last year.
First I saw the movie, had my own interpretation, and then I sought out the already published graphic novel to see Aronofsky's earlier vision and compare the two. It has deepened my understanding of both, but I was glad to see the movie first, and then get further into the story (or back to its original idea).
It's fascinating to see how an idea has developed creatively in an artist's mind, and inversely, how that idea was limited by budgetary and casting constraints. (Brad Pitt and Cate Blanchett were originally to star in the roles played by Hugh Jackman and Rachel Weisz.) **Here is a blog about the comic book version of "Blade Runner," which itself is slightly different from the five different movie versions, coming out on DVD soon.
Despite the fact that Kelly maintained the movie was not finished at Cannes last year, it is hard to believe that this statement wasn't a response to the critical bashing the film took after its premiere. We'll never know how "Southland Tales" has changed since then (supposedly its shorter, although Yahoo! lists it as 2 hours and 41 minutes!), but I'll be there at the earliest screening I can get to.
Whether it turns out to be a masterpiece or a disaster, "Southland Tales" looks way too strange to be ignored.
***I would love to ignore this awful movie poster, though. Ugh. It looks like two bad posters in one. The first, in the lower right corner, is like the original "Donnie Darko" DVD box, with its light and dark blue colors and serious tone. The second poster is meant to highlight a bunch of people who couldn't sell a movie like this to save their lives, and for some reason this 'other' poster is in red and tan? They don't even look like they're from the same film!