ADDING MORE GREAT PRIZES SO KEEP CHECKING BACK!
We have been lining up lots of cool stuff to do and a lot of great prizes to give away in the raffle Wednesday Oct. 29 at our Night of Rock n Roll Horror event at the Screenland Theater in Kansas City. Here's the lineup, getting larger every day: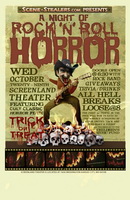 6:30pm:
-First 50 people in the door get free advance passes to Kevin Smith's "Zack and Miri Make a Porno."
-Raffle tickets will be sold for a chance to win big prizes, such as a brand-new 32GB iPod Touch, donated by our good friends at Transmuto Media.
–Rock Band will be available in the Screenland's big room for everyone to join in and shred some nasty-hot licks and pound those drums.
-The Screenland's bar will be open and rocking, and much socializing will occur.
-Food donated by our sponsors will be available until it runs out.
7:30pm:
-Eric will host a horror-movie trivia game. The winner will get one of the extremely cool prizes we have to give away. (Not the iPod, that's up for grabs in the raffle!)
-Inevitably, someone will think they are playing a real guitar and try to smash the plastic toy in their hand. In true rock-show fashion, the drunken lout will be forcibly ejected.
8:00pm:
-Everything we have, including the iPod Touch (see list below), will be given away in the charity raffle.
-A short reel of cheesy 1980s movies, horror and not, will be shown.
–"Trick or Treat" (1986), starring the guy who played Skippy on "Family Ties," will be shown in its entirety, and you will learn what happens when bad heavy metal albums are played backwards. The bar will stay open.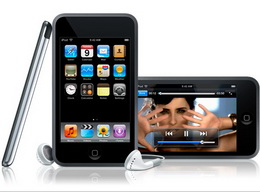 Prizes for raffle (updated as they continue to be confirmed):
brand new 32 GB iPod Touch
autographed "Grindhouse" poster
autographed "Grindhouse" mini-poster
Quentin Tarantino action figure from "Grindhouse"
huge "Grindhouse" hardcover book
2 Rob Zombie-autographed "Halloween" posters
"Saw I-IV" DVD Box Set
10 "Saw V" T-Shirts
lots of "Saw V" posters
2 "The Strangers" DVD
"Forgetting Sarah Marshall" DVD
"30 Rock" Season Two DVD
2 "The Dark Knight" movie posters
2 "Iron Man" movie posters
"Incredible Hulk" movie poster
2 sets of six "W." shot glasses
"Religulous" movie poster
2 "The Spirit" movie posters
lots of "Blindness" posters
lots of "Forgetting Sarah Marshall" posters
Gift certificate for a free breakfast @ The Classic Cup
25$ Gift Certificate to Grinders
Jazz Bucks from Jazz, a Louisiana Kitchen
"Raiders of the Lost Ark" FX Theater (diorama of boulder scene) from Clint's Comics
All proceeds go to the Children's Music Fund.
A special thank you to all of our sponsors, to whom we couldn't have done this without: Transmuto Media, Allied Advertising, B-BOP Comics, Grinders, The Classic Cup, Jazz, Clint's Comics, Waldo's, Zebedee's rpm, and Chipotle.