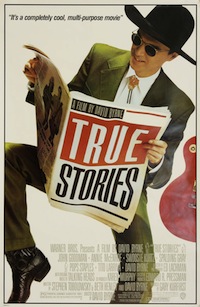 The Kansas City Art Institute and Alamo Drafthouse have joined forces to bring you Film School, a weekly student curated film series. Film School brings important films back to the big screen for your viewing enjoyment. From American classics like Who's Afraid of Virginia Woolf? to cult classics like The Road Warrior to exceptional foreign fare such as Band of Outsiders Drafthouse Film School has you covered.
This Saturday, March 30, Drafthouse Film School brings you David Byrne's True Stories (1986). Byrne explores the Texas town of Virgil, where the audience is introduced the many eccentric locals and the quirks of a small southern town preparing for its sesquicentennial anniversary.
This week we're in the 2 PM timeslot. Alamo Drafthouse will have its lunch menu available, Join Earl Culver and the rest of Virgil, TX for their celebration of special-ness with Film School.
The screening is Saturday, March 30th at 2 p.m. All Film School Screenings are just $5.
Click here for more information and to purchase tickets.