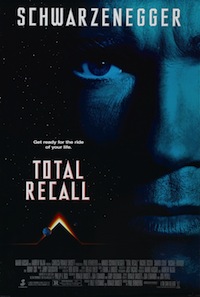 The Kansas City Art Institute and Alamo Drafthouse have joined forces to bring you Film School, a weekly student curated film series. Film School brings important films back to the big screen for your viewing enjoyment. From American classics like Who's Afraid of Virginia Woolf? to cult classics like The Road Warrior to exceptional foreign fare such as Band of Outsiders Drafthouse Film School has you covered.
This Saturday, April 20th, Film School brings you Paul Verhoeven's Total Recall. Douglas Quaid (Arnold Schwarzenegger), a 21st-century construction worker, seeks an adventurous vacation at Rekall, Inc.—but instead of his ideal escape, he discovers that his past has been fed to him through an implanted memory chip. Quaid, now hunted by people he once believed were friends, must flee to Mars to uncover his true identity.
This week we're in the 3 p.m. timeslot. Alamo Drafthouse will have its lunch menu available. Join us at the Drafthouse for this face-paced, sci-fi action movie.
The screening is Saturday, April 20th at 3 p.m. All Film School Screenings are just $5.
Click here for more information and to purchase tickets.