The Kansas City Art Institute and Alamo Drafthouse have joined forces to bring you Film School, a weekly student curated film series. Film School brings important films back to the big screen for your viewing enjoyment. From American classics like Who's Afraid of Virginia Woolf? to cult classics like The Road Warrior to exceptional foreign fare such as Band of Outsiders Drafthouse Film School has you covered.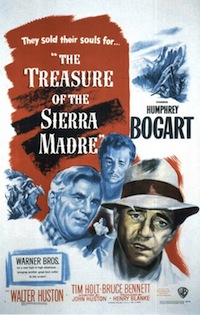 This week Film School brings one of the best, and most overlooked director/actor teams in cinema. John Huston consistently knew how to push Humphrey Bogart to his best and The Treasure of the Sierra Madre (1948) is no different. Adding to the already exceptional mix is a wonderful supporting cast, including an Oscar winning turn by John Huston's father Walter. The younger Huston always proved himself a fantastic director, and Sierra Madre is a beautiful, thrilling, and thought provoking work of cinematic art.
This may be one of your only chances to see The Treasure of the Sierra Madre in 35mm projection. Don't miss it.
The screening is Saturday, March 9th at 3 p.m. All Film School Screenings are just $5.
Click here for more information and to purchase tickets.