The Kansas City Art Institute and Alamo Drafthouse have joined forces to bring you Film School, a weekly student curated film series. Film School brings important films back to the big screen for your viewing enjoyment. From American classics like Who's Afraid of Virginia Woolf? to cult classics like The Road Warrior to exceptional foreign fare such as Band of Outsiders Drafthouse Film School has you covered.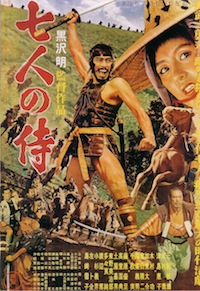 Coming off a sell out weekend with Real Genius, this Saturday, March 23, Film School brings you Akira Kurosawa's Seven Samurai (1954). A film that has defined Japanese cinema, Kurosawa's epic story of honor and duty follows a beleaguered village and the seven samurai who have vowed to defend them. A masterpiece that has influenced everything from Westerns to Star Wars, it doesn't get any bigger than Seven Samurai.
You may never get another chance to see a 35mm print of Seven Samurai. Do not miss it.
This week we're in the 3 PM timeslot. Alamo Drafthouse will have its lunch menu available, so get your pals together and defend the villagers with KCAI Screening Room and Drafthouse Film School.
The screening is Saturday, March 23rd at 3 p.m. All Film School Screenings are just $5.
Click here for more information and to purchase tickets.