The Kansas City Art Institute and Alamo Drafthouse have joined forces to bring you Film School, a weekly student curated film series. Film School brings important films back to the big screen for your viewing enjoyment. From American classics like Who's Afraid of Virginia Woolf? to cult classics like The Road Warrior to exceptional foreign fare such as Band of Outsiders Drafthouse Film School has you covered.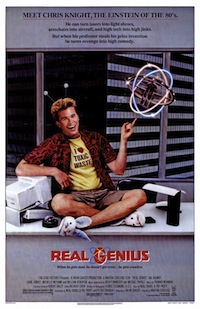 This Saturday, March 16th, Film School presents Real Genius (1985). At Pacific Tech, under the watchful eye of Professor Jerry Hathaway, the brightest student minds on the campus are constructing a five-megawatt laser. Unbeknownst to them the laser is not just for scientific study. The government wants it as a weapon, but senior Chris Knight and the newest genius, Mitch, want nothing more than to have a good time.
This film is almost as thoughtful as it is quintessentially 80s, and you may never get another chance to see it on the big screen.
The screening is Saturday, March 16th at 2 p.m. All Film School Screenings are just $5.
Click here for more information and to purchase tickets.