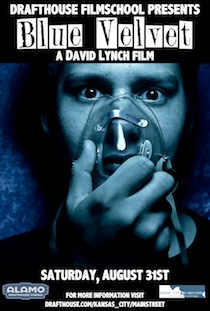 The Kansas City Art Institute and Alamo Drafthouse have joined forces to bring you Film School, a weekly student curated film series. Film School brings important films back to the big screen for your viewing enjoyment. School's back in session we've got some incredible films from across the cinematic spectrum. Iron Giant, Chinatown and Eraserhead are just a few of the lessons that Drafthouse Film School has in store for you this semester.
This Saturday, August 31st, join Drafthouse Film School for David Lynch's surreal classic Blue Velvet (1986). This mystery-thriller goes beneath the surface of the happy suburban American dream to the violent, corrupt, drug and crime-ridden underworld that lies just beneath. Jeffrey Beaumont's (Kyle MacLachlan) journey begins when he finds a severed human ear in a field near his home. This film also stars Isabella Rossellini, and Dennis Hopper in one of his most chilling roles of his career.
The screening is Saturday, August 31st All Film School Screenings are just $5.
For tickets and information click the link or call (816) 474-4545.