Day Four and more movies to go! Today at Fantastic Fest I saw kids' movie "Buratino: Son of Pinocchio," the British dark comedy "Down Terrace," Terry Gilliam's long-awaited "The Imaginarium of Dr. Parnassus," action sequel "District 13 Ultimatum," and horror flick "The Children."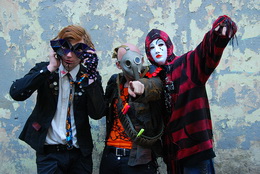 "Buratino: Son of Pinocchio" – swiss fist
The first 20 minutes of this musical twist on "Pinocchio" are so inspired that it's difficult to be too hard on this Estonian and Russian movie for losing steam. There is some beautiful absurdity at work here and portions recall early Baz Luhrmann or the work of "The Gods Must Be Crazy" director Jamie Uys.
Unfortunately, much of the movie feels very rushed and unfocused, like it was made by a committee that could never decide who the intended audience is. The songs also seem like an afterthought, and some scenes feel aimless, like they were written that morning on set.
As it is, "Buratino" is a decent kids' movie that is just strange enough find a cult audience but will leave most others cold. The sparks of greatness that are here portend a strong future for writer/director Rasmus Merivoo, however, and I look forward to more from him.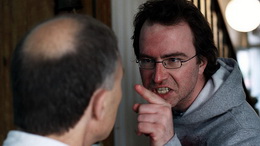 "Down Terrace" – minor rock fist up
I am convinced there is an entire subset of people who feel there is nothing more hilarious than people with British accents arguing with each other. No matter how ugly the disagreement, there's something about a British accent that makes their anger seem absurd. I call it the "Cheer-i-o Effect."
While I do appreciate my fair share of British comedy, it took me a little while to get into the dysfunctional crime family drama "Down Terrace," a film that is about 80 percent people with British accents arguing with each other.
Almost all of the film takes place inside a single house and it's shot in a mostly handheld manner that helps accentuate the awkwardness of the characters. It feels a little bit like the original "The Office," if they swore a lot and people started killing each other.
The single primary location and the almost Shakespearean twists the plot take all seem very play-like to the point that if this was never adapted for the stage before, it probably should be now.
While this movie did eventually wear down my defenses and there was some sharp wit on display, it still didn't really sit well with me. The good news is I know there's a lot of people who will really love this movie. I have a feeling it will grow on me eventually, but for now I can only recommend it to those who think it sounds like their cup of tea.
This movie won the Best "Next Wave" Feature and Screenplay Awards at Fantastic Fest this year.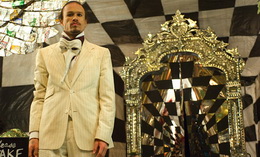 "The Imaginarium of Dr. Parnassus" – solid rock fist up
I honestly had lost hope that we'd see a Terry Gilliam film this decade that held up to his previous work, but with "The Imaginarium of Dr. Parnassus" he's done it.
This film feels atmospherically and thematically closest to a cross between Gilliam's own "The Fisher King" and Dave McKean's "Mirrmormask." The screenplay was written by Gilliam himself, along with Charles McKeown, who he previously collaborated with on "Brazil" and "The Adventures of Baron Munchausen."
"The Imaginarium of Dr. Parnassus" is a non-religious take on the struggle to save one's soul from the tide of greed, pride, or more prurient interests. It's a film of magic and wonder, by way of Eastern mysticism, that happens to take place in the rather ugly world of modern day London.
The story is darkly funny, sad, and exciting. The actors that substitute for Heath Ledger once he crosses over into the Imaginarium are good and the reason for this substitution is handled very well and feels organic within the movie's logic. Unfortunately, the pacing seems a little uneven, the plot is a little muddled, and the special effects work well, but can't rival Gilliam's early films in terms of visual splendor.
What did make it to the screen is a unique experience with layers and details that beg to be revisited. While not quite as good as his previous triumphs, "The Imaginarium of Dr. Parnassus" is a very good and unique film that signals the return of an accomplished director doing what he does best.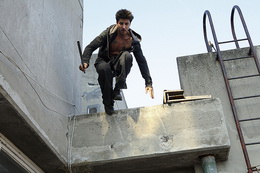 "District 13: Ultimatum" – solid rock fist up
The original "District 13," also known as "District B13," was an infectious burst of energy and surprises. If you even remotely like action or fun or fun action, you owe it to yourself to check it out.
Like the original, "District 13: Ultimatum" combines thrilling parkour chase scenes, inventive mixed martial arts fights, and race-against-time plotting to construct an exciting film.
The back story for both is that in the near future in Paris, a neighborhood of lower-class citizens has descended so far into crime that resources such as schools, hospitals, and even police stations are forced to be abandoned. Its borders are made into militarized checkpoints, and its citizens are otherwise cut off from the rest of society.
This movie reunites the idealistic street rebel Leito with the principled supercop Damien as they attempt to thwart yet another plan to destroy the District. Unfortunately, an over-reliance on using the first film as a template, and a plot that feels more like wheels spinning than franchise building makes this the inferior picture of the two.
But even more of the same is still great in this case. It still puts most other action films to shame.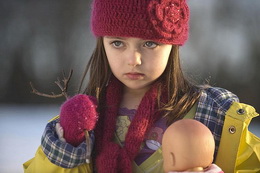 "The Children" – minor rock fist up
Here's a horror movie that reasons that if children are creepy and British children are creepier, British children turned into murderous beasts by some sort of viral infection will take the gold medal at the Creepy Olympics.
I don't know what's going on in the U.K. currently, but this is the second film I've seen at Fantastic Fest that features a disease that turns a specific segment of the population into killers. I hope it's coincidental, but if it is a cry for help, I hope those guys in wigs can figure out a solution soon.
Considering "killer children" is one of the most neglected segments of the horror genre, it's good to get a new film that is pretty fearless when it comes to both children who kill and killing those children that kill. It also manages to build enough of a believable relationship between the children and their parents that when they're forced to do the unspeakable or die at the hands of their progeny, the psychological ramifications of their choice is not glossed over.
Unfortunately, it takes a little bit too long to wade through some of the ultimately inconsequential build-up and most people will check out before the eyeballs start flying. It's not the worst expository dialogue in the world, but I'm looking forward to revisiting this movie later when I have the benefit of a fast-forward button.
With a serviceable amount of quality gore and well-executed scares, "The Children" is the perfect movie if you ever wanted to talk your significant other out of having kids.
That's it for Day Four. It was a very enjoyable day that just happened to be outdone by Day Five, which featured the horror threesome of "Rec 2," the long-delayed "Trick 'R Treat," and "House of the Devil," among others.