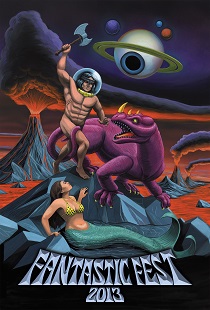 Since 2009, we've brought you coverage of the Alamo Drafthouse's genre film festival Fantastic Fest, the annual explosion of insanity and awesomeness that descends upon Austin, TX every fall.
Without a doubt, 2013 had one of the strongest and most eclectic lineups in the history of film festivals, and now you can find out for yourself as a condensed version hits several cities across the country this weekend.
Aside from the screenings at the Alamo Drafthouse Kansas City (which are local to Scene-Stealers), you can also catch the tour if you are lucky enough to live near Drafthouse locations in Austin, Denver, Dallas, Houston, New York, San Antonio, and Virginia.
The 2013 Fantastic Fest Tour Dates
I'm as excited for this tour as anyone, as it gives me a chance to catch three of the films I missed during the fest. The eight films playing range from hilarious, thrilling, action-packed, thought-provoking, but above all unique. This is the perfect cure for the common studio formula.
Don't miss it.
BIG BAD WOLVES
Directors: Navot Papushado and Aahron Keshales
2013, Israel, 110 min
Big Bad Wolves is the stylish follow-up to Fantastic Fest 2011 favorite Rabies. Like that film, it mines pitch black comedy from tense and violent situations. This thriller about a disgraced cop and a mourning father's possibly misguided confrontation with a suspected pedophile and kidnapper is complex, brilliantly staged, and completely unafraid to go to those dark places uncommon outside of South Korean cinema. It recently got a big boost from Quentin Tarantino, who called it the best film of the year.
BORGMAN
Director: Alex Van Warmerdam
2013, The Netherlands, 113 min
Borgman, the Netherlands officially designated entry for best Foreign Language Film at the Academy awards, is also the first Dutch film to play in competition at Cannes in four decades. It may start as a standard home-invasion premise, but reports are it goes in surreal, sinister, but surprisingly funny directions as well.
CHEAP THRILLS 
Director: E.L Katz
2013, USA, 85 min
Cheap Thrills starts unassumingly enough, as an awkward reunion of old down on their luck friends, but quickly escalates into a thrilling and darkly comedic series of events when they become a wealthy couple's experiment in escalation and the compromises desperate people will make. Manages to feel both intimate and larger than life.
CONFESSION OF MURDER
Director: Jeong Byeong Gil
2012, South Korea, 119 min
No Fantastic Fest experience would be complete without South Korean cinema, which always manages to rise above. Previous standouts include The Good, the Bad, the Weird; The Chaser; I Saw the Devil; The Yellow Sea; and the Man From Nowhere. This film appears to be one of the great ones as well, as it mixes thriller, drama, and action elements as it tells the story of the hunt for justice in the wake of a confession of a killer who appears to be literally getting away with murder.
THE CONGRESS
Director: Ari Folman
2013, Israel, 123 min
Anyone who saw Waltz with Bashir knows that Ari Folman is a talent to watch, and should also expect surprises in his surreal and cerebral follow-up–an animated adaptation of a science fiction novel that features of the talents of Robin Wright, John Hamm, and Harvey Keitel.
GRAND PIANO
Director: Eugenio Mira
2013, Spain, 90 min
Grand Piano is an insane thriller, and clearly a throwback to Hitchcock and his biggest champion De Palma. Thankfully, the film believes in itself and that commitment works on a level that shouldn't even be possible. If you love classical pianists being forced to play at gunpoint, your drought is over! This Fantastic Fest 2013 Audience Award winner is directed by Eugenio Mira, whose now had three films play the Fest, and stars Fantastic Fest darling and spirit animal Elijah Wood in the leading role.

JOURNEY TO THE WEST: CONQUERING THE DEMONS
Directors: Stephen Chow and Chi-Kin Kwok
2013, China, 110 min
Journey to the West: Conquering the Demons marks a return to form for Stephen Chow as a director. I've missed him and his bonkers sense of humor and I loved the crazy Buddhist stuff in the demon battles. While Chow doesn't act in this one, his touches are felt throughout in this martial arts comedy.
WHY DON'T YOU PLAY IN HELL
Director: Sion Sono
2013, Japan, 126 min
Why Don't You Play in Hell is the latest bit of gleeful insanity from Sion Sono, the Japanese director of past Fantastic Fest favorites Love Exposure and Cold Fish. It's a comedy first, a declaration and exploration of the love of filmmaking second, and a bloody gangster movie third. This is exactly the type of film I love seeing with a packed house at Fantastic Fest.