Fantastic Fest 2011 is under way, and contributor George Hickman is filing his reports each day as the festival and its movie events continue. Here are a couple condensed-reviews of new films at Fantastic Fest this year.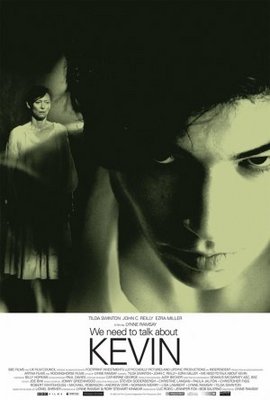 We Need to Talk About Kevin (solid rock fist up)
"We Need to Talk About Kevin" is the new film from critically acclaimed director Lynne Ramsey, who has not made a new film in nearly a decade. Adapted from a novel by Lionel Shriver, this movie tells the story of the adversarial relationship between a mother Eva (Tilda Swinton) and her son (played as a teen by Ezra Miller), ultimately leading up to the commission of an unspeakable evil.
Told in a contemplative and at times dream-like fashion, it focuses on the mother and her remembrances of the better part of two decades as she tries to piece together the why behind her son's actions. It uses some abstract editing and sound design to help suggest Eva's thought process and her perhaps not-always-reliable memory.
From his birth, Kevin seems to be testing her limits. He cries ceaselessly when they are alone, but immediately quiets when his father (John C. Reilly) enters the room. This manipulation of the father and challenging of the mother is a constant staple throughout his childhood.
Played at three stages by three actors, Kevin is, in a word, creepy. Eva suspects there is something wrong with him, but is told by her husband and doctors that he is mostly normal. Of course, Eva's deepest fears are eventually proven right. But did he become a monster because that's what he was destined to become, or did you somehow push him to that path?
This film has no easy answers. It is a very effective as a character study with a few darkly comedic moments, but is mostly bleak and dour throughout its runtime. Thankfully Swinton's commendable and committed performance are up to the task, and Miller holds his own with a malevolent smile.
My biggest problem with the film is that there are gaps in logic as far as the son's mental condition and the logistics of his ultimate crime. While some of this can be explained by the concept of Eva as an unreliable narrator, other details feel like the invention of a novelist who didn't do enough research.
Regardless, as the story of the rivalry between a flawed, selfish, but well-meaning woman and the cold, cruel son she has always struggled to love, "We Need to Talk About Kevin" is a heartbreaking work of questionable genius.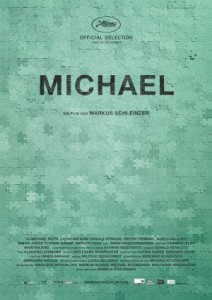 Michael (solid rock fist up)
Sometimes a movie comes along that makes you so uncomfortable from a subject matter standpoint that you feel bad endorsing it, let alone enjoying it. But Fantastic Fest is all about giving a chance to films you wouldn't have necessarily seen otherwise, so why not watch a film about a meticulous pedophile and the young boy he has trapped in his basement?
For those who haven't checked out already, "Michael" is an extremely well-made movie, which I guess it would have to be considering its subject matter. Who wants to talk about a poorly made movie about pedophilia?
Natasha Kampusch was an Austrian girl who was kidnapped at age 10 and held captive for eight years until she escaped and her captor committed suicide. "Michael," directed by Markus Schleinzer, is partially based on this real-life story. It smartly sidesteps sensationalism and tells its narrative through a series of seemingly mundane slice-of-life vignettes that work to give us a better picture of the character Michael than anyone else in his life really knows. It also has the side effect of keeping the proceedings from feeling too bleak or hopeless.
There are also quite a few moments of black comedy, and there's a admittedly perverse joy in watching bad things happen to him.
By humanizing Michael (Michael Fuith), it helps remind us just how little separates him from the rest of us. Even monsters have day jobs.
So why would anyone want to watch this film?
There definitely is merit in confronting difficult subjects, and in struggling to understand how a person like that could exist under the nose of his friends, family, neighbors, and co-workers.
"Michael" is equal parts fascinating, terrifying, maddening, and hilarious. It also wraps up in a oddly satisfying way that ends where the headlines would begin. No matter how unpleasant the thought, "Michael" is a film that will stick me for some time.