The following is a press release:
September 24-October 1, 2009
www.fantasticfest.com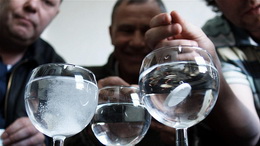 Fantastic Fest is proud to announce the winning films from the 2009 festival. Taking top prize in the Next Wave competition is the darkly comedic drama from Britain, DOWN TERRACE. The audience award goes to A TOWN CALLED PANIC, the best horror film goes to HUMAN CENTIPEDE while Chilean action thriller MANDRILL takes the Fantastic Feature award.  The photo above is MANDRILL leading man Marko Zaror doing a celebratory flip. Complete awards listings are below:
Jury results – SHORTS Awards
ANIMATED SHORTS:
Best Animated Short – I AM SO PROUD OF YOU (Don Hertzfeldt)
Special Mention – ALMA (Rodrigo Blaas)
FANTASTIC SHORTS:
Best Fantastic Short  – TERMINUS (Trevor Cawood)
Special Jury Award – NEXT FLOOR  (Denis Villeneuve)

HORROR SHORTS:
Best Horror Short  – FULL EMPLOYMENT (Thomas Oberlies, Matthias Vogel)
Special Mention – EXCISION (Richard Bates, Jr.)

Jury results – FEATURES Awards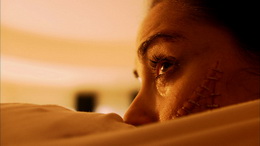 HORROR FEATURES
Best Horror Feature: HUMAN CENTIPEDE (Tom Six)
Best Horror Director: Kerry Prior (THE REVENANT)
Best Best Horror Actor: Dieter Laser (HUMAN CENTIPEDE)
Best Horror Actress: Neve McIntosh (SALVAGE)
FANTASTIC FEATURES
Best Fantastic Feature: MANDRILL (Ernesto Diaz-Espinoza)
Best Fantastic Director: Kim Nguyen (TRUFFE)
Best Fantastic Screenplay: Tamio Hayashi adapted from Kotaro Isaka (FISH STORY)
Best Fantastic Actor: Marko Zaror (MANDRILL)
Best Fantastic Actress: Chiaki Kuriyama (KAMOGAWA HORUMO)
NEXT WAVE FEATURES
Best Feature: DOWN TERRACE (Ben Wheately)
Best Director: Yang Ik-Joon (BREATHLESS)
Best Screenplay: Robin Hill, Ben Wheatley (DOWN TERRACE)
Best Actor: Jeong-min Hwang (PRIVATE EYE)
Best Actress: Shera Bechard (SWEET KARMA)
AUDIENCE AWARD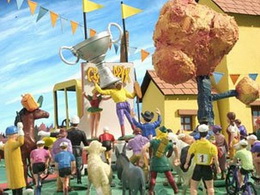 Audience Award, Best Feature: A TOWN CALLED PANIC (Stephane Aubier, Vincent Patar)
Audience Award, Honorable Mention Films:
FISH STORY BREATHLESS
THE REVENANT
MERANTAU
Uwe Boll's Totally Awesome Video Games Filmmaking Frenzy Contest:
This year, Filmmaking Frenzy teamed up with G4 to create a contest that challenged filmmaking teams around the nation to create trailers for movies based on video games. Uwe Boll, the undisputed master of that genre, showed up to be the judge.  
Team:  FilthyButts
Film: MARIO PAINT
Team Capt: Joey Graham
Fantastic Fest Bumper Contest:
Filmmaking Frenzy also challenged teams to create 30 second Fantastic Fest bumpers that would play before all of the features in the festival. So many teams responded to this challenge that no bumper was played twice. The winning video was chosen by the Filmmaking Frenzy online community.
Team: FOGAR!
Film: DOGZILLA VS. CATHRA
Team Capt – Maurice Jacks
Shakey Face Badge Photo:
Fantastic Fest badges ask for a photo submission, similar to other festivals the world over. At Fantastic Fest, though, we demand that badgeholders submit a "Shakey Face" photo, and we reward the best face of the fest with a blanket featuring their shaken mug woven on it. This year's winners are listed below, and you can check out a video of their Shakey Face Throwdown after that.
2009 Shakey Face Award Winners:
Christine Fisher
Troy Gonzales
Video of the Fantastic Fest Shakey Face competition