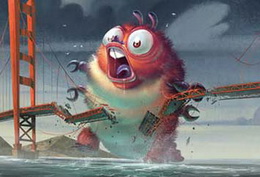 Well, it's 2 am in Los Angeles, and now seems like a pretty good time to run down my big day at the Siggraph 2008 International Conference and Exhibition on Computer Graphics and Interactive Technologies. I walked through the big technolgical dream/nightmare that is the main show floor many times today, but I can't stop too long to gaze into any one exhibit because I've been racing from panel to screening to competition to computer. Blogging for DigitalContentProducer.com has been great fun and its given me an opportunity to see exclusive clips of upcoming major motion pictures, hear the filmmakers themselves discuss what they feel the future of the industry is, and given me the night to go to parties and special LA-only activities like Grindhouse Film Festival night at the New Beverly Theater.
During the Animated 3D Cinema: Imaginary Worlds Brought to Life panel, Phil "Captain 3D" McNally from DreamWorks Animation showed clips from a newly 3D-izes "Kung Fu Panda." I haven't seen the 2D version yet, but what was fascinating about this was how much different the actual cut of one scene was to make it work with 3D stereoscoping. In order for the viewer's eyes to adjust, one action sequence itself had less cuts and longer takes, resulting in a scene that was 14 percent longer than the original.
He also showed a very funny clip from DreamWorks' upcoming "Monsters vs. Aliens," which besides being a spoof of giant monster/'50s sci-fi movies, is also the first film to be authored by the studio in 3D from its inception. After a giant alien robot lands in the desert, a U.S. president (who looks like a horn-rimmed Ira Glass by way of Bruce Campbell) bent on showcasing his strength climbs a giant staircase to be the first man to approach the robot. His first choice to make contact? The five-note keyboard pregression from Close Encounters of the Third Kind, and Harold Faltermeyer's "Axel F" theme from "Beverly Hills Cop," of course. Read more here.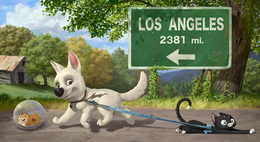 There is an entire 3D symposium happening at Siggraph 2008, as many in the industry feel that this is the future of filmmaking. (Many in the industry also have a lot of cash riding on this prediction as well.) One thing all of the speakers I saw today agreed on was the need for story to come first. Duh. Sure, that's kind of a given, but I suppose it was nice to be reassured that Hollywood knows a couple of fast-flying objects that seem to jump out at the screen every couple minutes will not be enough to keep us movie fans in the seats for their 3D movies for very long. 
If that's the case, though, why was Robert Neuman, stereoscopic supervisor at Walt Disney Animation the first one to mention it? The movie he was promoting, "Bolt," looks like just the kind of harmless kiddie fare that is more concerned with following a formula than it is about an original story. A talking dog (voiced by John Travolta) meets up with a talking cat and a talking gopher (or some cute furry creature of that nature) to save the dog's owner? Is it just me or have you had enough of talking animal moves? There are a whole lot of other things out there to animate with new technology besides freaking animals. The 3D looked good, but no thanks.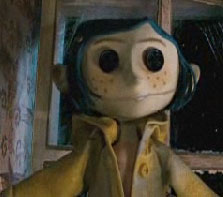 One movie I'll be lining up to see either this fall or next spring is Henry Selick's "Coraline," based on the book by Neil Gaiman. Selick is the stop-motion freak who gave us "The Nightmare Before Christmas" and "James and the Giant Peach," and from the clips I saw, this meticulously pieced-together picture is going to be dark, spooky fun. Brian Van't Hul, the visual effects supervisor for "Coraline,"  was on hand to answer questions about why his group, Laika, would work on such a painstakingly long animation process when computers can do virtually the same thing so much faster. The work itself is actually its own reward, he said. A tactile, visual experience during production will surely rub off on the final product, and shooting with one only camera breeds experimentation.
Either way, it's refreshing to see something that isn't as smooth and perfect as straight computer animation and someone taking chances with a different kind of story. The clips I saw featured some bizarre stuff such as walking insect chairs, sad ghost children with button eyes, and an acrobatic marching band that hides in the sleeve of a giant circus ringleader. Read more here.
More to come from Siggraph 2008 in Los Angeles….