Eddie Murphy is out as host of the 2012 Academy Awards. Brett Ratner resigned yesterday as producer of the show after coming under fire for making anti-gay remarks, and now his host, Eddie Murphy, has quit as Oscar host.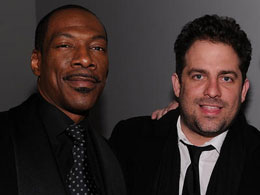 UPDATE: Brian Grazer is the frontrunner to replace Ratner. Will he talk Eddie Murphy back into hosting? Nope!
The Academy of Motion Picture Arts and Sciences announced today that Eddie Murphy has stepped down as host of the Oscars, following lots of speculation in a week filled with drama.
This is really disappointing, as I was looking forward to seeing what Eddie Murphy would do — the kind of fresh (or not-so-fresh, honestly: Daddy Day Care?) attitude he would have brought to the telecast. This might be going too far but does anyone else think that Eddie Murphy quitting could be construed as supporting Ratner's homophobic comments?
Brett Ratner resigned yesterday as co-producer of next year's Academy Awards ceremony, following his slur about gays and comments he made about his sex life on Howard Stern's Sirius XM Radio show. The Academy of Motion Picture Arts and Sciences certainly wasn't fighting for him to stay, but the reaction to Ratner's stepping down hasn't been all positive. Some say he deserved to be shown the door, while others defended his right to speak his mind, however crass and insensitive it may be.
The notoriously press-shy Eddie Murphy, who starred in Ratner's Tower Heist, must have really enjoyed the way in which Ratner would have shielded him from normal press obligations. Oh well.
"Rehearsal is for fags," Ratner said when asked about his rehearsal process at a Q&A last Friday at the ArcLight in California. [VIDEO BELOW]