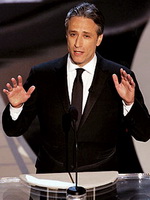 The Satellite Awards predict the Golden Globes, which predict the Oscars. In between, there are the Critic's Choice Awards, AFI's Top 10, and just about every film critic society from Los Angeles to New York. (I myself am a member of the KC Film Critic's Society, and we'll be voting on Jan. 6.)
Between now and February 22, 2009, when the 81st annual Academy Awards airs, there will be a lot of speculation about who will be nominated and who will win. Hollywood has a lot riding on this. Last year's Oscar telecast, hosted by Jon Stewart, was the least watched show ever, with only 32 million viewers. On the other hand, with nominees and winners such as "There Will Be Blood" and "No Country for Old Men," it was also an excellent showcase for daring filmmaking, so who cares, right?
Good news for film fans ahead, and bad news for ABC, who's broadcasting the event until 2014: The New York Times reports, "The Academy of Motion Picture Arts and Sciences, once the chummiest club in show business, is becoming more artsy and indie-minded just as much of the Hollywood establishment hoped to make it more commercial." I maintain that the box-office success of the darker, more mature mainstream fare that's creeping into our kids' movies and superhero blockbusters (such as "Wall-E" and "The Dark Knight") show that America's tastes are becoming more discerning.
I also think this is due in large part to the rise in widescreen HDTV systems and DVD rentals. Remember the whole fullscreen vs. widescreen debate? That's pretty much over now, and movie fans everywhere are finally enjoying films in their homes as they were meant to be presented.
Anyway, back to the Satellite Awards. This Oscar season is way up in the air because the writer's strike crippled a lot of movies, bringing overall production down, and the few prestige pictures that did get made are just not panning out as critical successes. Looks like another big year for indies. While we all know the Golden Globes are hosted by the mysterious Hollywood Foreign Press Association, who hosts the Satellite Awards? That, my friends, is the similar-sounding International Press Academy.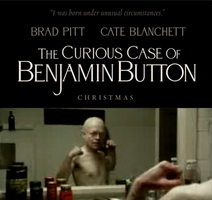 Well, the International Press Academy has published the earliest list of award nominations for 2009, having probably seen most if not all of the year's releases, and there are some big snubs in their Satellite nominations. Most telling? "The Curious Case of Benjamin Button," the historical drama featuring Brad Pitt and Cate Blanchett, directed by David Fincher, received only three nominations total and none for Best Picture, Drama, or its actors or director (just cinematography, screenplay, and costume design). This is the first blow to a movie that looked as if it may be a big frontrunner.
Clint Eastwood's late addition "Gran Torino" (rushed to be completed for a 2008 release after his "Changeling" didn't get enough positive attention) has zero, count 'em, zero nominations. Hell, even "Changeling" got two nominations (Angelina Jolie for Best Actress and a Best Cinematography nod). Any chances that "Australia" once had at Best Picture are also surely evaporated by now as well.
Oddly, even though the Satellites nominated Christopher Nolan for Best Director, they snubbed "The Dark Knight" for Best Picture, Drama in favor of indie sleeper "Frozen River," which also got a nod for its lead actress Melissa Leo, inching her Oscar chances ever closer. More oddities: I'm glad to see Josh Brolin nominated for "W." but the Oliver Stone film was most assuredly not a comedy, even though it was marketed as such. Also, despite the push to recognize it in for Best Picture,"Wall-E" is relegated to the animated feature category. Check out the list here:
BEST PICTURE, DRAMA
"The Reader "
"Slumdog Millionaire "
"Revolutionary Road "
"Frost/Nixon "
"Milk "
"Frozen River "
BEST PICTURE, COMEDY/MUSICAL
"Happy-Go-Lucky "
"Nick and Norah's Infinite Playlist "
"Vicky Cristina Barcelona "
"Tropic Thunder "
"In Bruges "
"Choke "
BEST DIRECTOR
Thomas McCarthy, "The Visitor"
Ron Howard, "Frost/Nixon"
Gus Van Sant, "Milk"
Christopher Nolan, "The Dark Knight"
Danny Boyle, "Slumdog Millionaire"
Stephen Daldry, "The Reader"
BEST ACTOR, DRAMA
Mickey Rourke, "The Wrestler "
Mark Ruffalo, "What Doesn't Kill You "
Richard Jenkins, "The Visitor "
Frank Langella, "Frost/Nixon "
Leonardo Dicaprio, "Revolutionary Road "
Sean Penn, "Milk "
BEST ACTRESS, DRAMA
Melissa Leo, "Frozen River "
Angelina Jolie, "Changeling "
Anne Hathaway, "Rachel Getting Married "
Kristin Scott Thomas, "I've Loved You So Long "
Meryl Streep, "Doubt "
Kate Winslet, "The Reader "
BEST ACTOR, COMEDY/MUSICAL
Ricky Gervais, "Ghost Town "
Sam Rockwell, "Choke "
Josh Brolin, "W. "
Michael Cera, "Nick and Norah's Infinite Playlist "
Brendan Gleeson, "In Bruges "
Michael Cera, "Nick and Norah's Infinite Playlist "
Mark Ruffalo, "The Brothers Bloom "
BEST ACTRESS: COMEDY/MUSICAL
Sally Hawkins, "Happy-Go-Lucky "
Meryl Streep, "Mamma Mia! "
Lisa Kudrow, "Kabluey "
Kat Dennings, "Nick and Norah's Infinite Playlist "
Catherine Deneuve, "A Christmas Tale "
Debra Messing, "Nothing Like the Holidays "
The awards will be given out on Dec. 14 at the Century City InterContinental Hotel in LA.