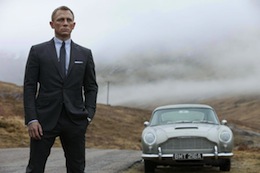 Skyfall is the 23rd James Bond movie, and on the 50th anniversary of the superspy, the Sam Mendes-directed film took in an outstanding $88.4 million, which is a new opening weekend record for Bond.
Unfortunately, with 23 movies, there's a lot of room for some bad ones to sneak through.
Scene-Stealers sitegoer and Bond fan Will Dawson contributed his list of the 10 worst movies in the James Bond franchise and since writing it, there's been quite a few comments and disagreements.
With every Bond movie being a riff off of a familiar formula, taste is going to come even more into play than usual for a list of favorites or non-favorites, so this list is pretty contentious.
What do you think of this list of the Top 10 Worst Bond Movies ever made? Check out Will's list at this link and leave a comment!
ALSO: If there are any Bond superfans out there who would like to write a list of their Top 10 favorite James Bond movies, hit me up at eric@scene-stealers.com.