Our friends over at Razorfine.com decided that this week would be a fabulous one to designate as Aaron Sorkin week– a celebration of all things Sorkin. So after you've read this "The West Wing" love-fest take a spin over to Razorfine for more coverage on the creator/writer extraordinaire who gave us "The West Wing," "Sports Night" and the screenplay for the new Mike Nichols film "Charlie Wilson's War" starring Tom Hanks and Julia Roberts, due out this Christmas.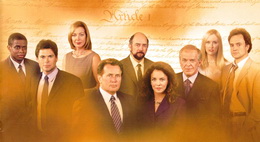 In my life I've been a fan who took things past the point of reason, all the way to the geek realm, on a number of occasions. This is a place where obsessive behavior can actually be beneficial for discovery, or just plain nutty depending on the number of Klingon languages you speak or sheer volume of packaged action figures on display in your living room. I could try to defend my level seven geek status by claiming that multiple listens and views makes it possible to uncover the deeper layers in a film or song, but you'd just laugh and I wouldn't blame you if you did.
I've been a "Star Wars" geek, an 80s metal geek, a Sci-Fi geek, a Beatles geek, a Lord of the Rings geek and even a Harry Potter geek. Over the last few years I've added a new, less common title to my roster. I'm a bonafide "The West Wing" geek.
At this point I've actually lost count on the number of times I've watched all seven seasons of TV's quintessential political drama. It's more than three, less than ten. Let's do the math, that's 154 episodes at least 3 times, not including the mountain of episodes on the Bravo channel's marathons before I bought the DVD's – O.K. now I'm kinda freaked out.
I was a late comer to the show. I caught a few episodes on Bravo and then I just couldn't stop. I was instantly hooked. The acting, characters, camera-work and especially the writing and dialogue remain the best I've ever seen on network television, period.
Series creator Aaron Sorkin obviously hit upon something with the screenplay for Rob Reiner's 1995 hit "The American President." In addition to scouting future "WW" regulars Joshua Malin ("Sports Night") and Anna Deavere Smith ("The Practice"), Sorkin discovered, in his proto-"West Wing," the seeds for a series that would allow him to explore the themes and characters only hinted at in the film. It also provided him an opportunity to work with Martin Sheen, soon to be President Josiah Bartlet, who has stated publicly that it was his previous relationship with Sorkin and series producer John Wells that convinced him to take the plunge into a TV series for the first time in his distinguished career.
"The West Wing" has ruined me for regular television. I've tried to watch other TV dramas, but they almost never come anywhere close to measuring up. Hence, the repeat visits–front to back–through the entire show. In fact, it's so much more interesting than what's typically on, I've kept it in nearly constant rotation for over a year. Its also curbed my movie habits at home, in most cases one episode of the show has more substance, and evidence of craft, than two of the average Hollywood film.
In addition to the well rounded White House drama it appears to be, the show is Sorkin's tribute to speech writers, to rhetoric and to oratory. The characters themselves celebrate language, and Sorkin's exquisite dialogue is the x-factor that makes the show so remarkable. The commentary track on the Season Five episode "The Supremes" features producer/director Alex Graves and others, discussing guest star Glenn Close's apprehension to jump into the fire with the Emmy winning cast and to work with the legendary quickfire dialogue. At this point Sorkin had already left his post on the show, departing prior to Season Five, but his characters and style remained throughout the final three seasons. The intimidating dialogue, classic characters and "walk and talk" shots – those signature sequences that weave in and out of White House corridors and offices – are just the kind of stuff that made seasoned actors like Close bring their A-game and what make the show so special.
The greatest evidence of Sorkin's talent as a creator and writer are the principle characters themselves: President Jed Bartlet, Leo McGarry, Joshua Lymon, Toby Ziegler, Sam Seaborn, C.J. Cregg, Donna Moss and Charlie Young. Rarely in television history have there been characters written any better than any one of the eight original principle roles, all of which are strong enough to have been the basis for their own show.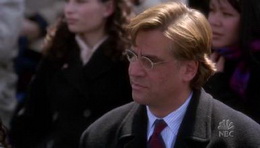 "The West Wing" is nothing short of lightning in a bottle. Aaron Sorkin is the kind of guy who may have several masterworks in his career, but it's hard to imagine topping "The West Wing." It's obvious that there was a special connection between Sorkin and this material and his characters.
I have bemoaned my frustration at the show's demise to anyone who will listen since the finale aired May 14, 2006. Ultimately, I would give a toe to get a full lost episode or two, anything really. Rob Lowe left after Season Four for "reasons passing understanding." The Sam Seaborn character was the role of a career for Lowe, still trying to rehab his Brat Pack reputation, and it fit him perfectly. I've always felt there was unfinished business there–the kind of stuff that Sorkin could spin off into a Seaborn series worth watching. Well over a year after the fact, I'm still not ready to face the end of the series. That, folks, is the truly unfortunate side of obsessive fan behavior.
Over seven seasons the show has had so many high points that to narrow down the best episodes would be difficult, but I'll leave you with a few favorite picks. These are the kind of episodes that I think will build an army of "West Wing" geeks. We can hang out in suits near public buildings and talk about policy initiatives and what we think really happened to Toby!
On second thought that would be awful. Hey, maybe I haven't gone completely round the bend just yet.
Season One: "Mr.Willis of Ohio"
Season Two: "In the Shadow of Two Gunman Part I and Part II," "In This White House," "Noël," "The Stackhouse Filibuster," and "Two Cathedrals."
Season Three: "100,000 Airplanes," "Night Five," and "The U.S. Poet Laureate."
Season Four: "Life on Mars"
Season Five: "Shutdown," and "The Supremes."
Season Six: "King Corn," and "A Good Day."
Season Seven: "Here Today," and the series finale "Tomorrow."