It's taken me almost a week (and two trips to the doctor) to come down completely from my amazing experience at the U.S. Air Guitar Championships last Friday in Washington, D.C.
I, as Mean Melin, competed against 24 other air guitarists from all over the country who share the same affinity for rock n' roll and making fools out of themselves onstage that I do.
It reminded me a lot of being on VH1's "World Series of Pop Culture" two years ago: A huge group of people are thrown together over their strange (and formerly useless) talent in front of a large audience to challenge each other onstage, but only one winner is declared. Everybody would like to win, but most of the people are just there to have fun.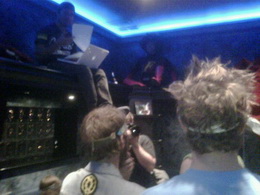 We all spent a lot of time in the small, crowded, B.O.-filled backroom of the 9:30 Club and I immediately felt sorry for the four brave and badass female air guitarists (McNallica, Airisol, Mojo Gojo, and Airin Maiden). I got to know many of the other contestants and had a blast hanging out with them.
There was a brief and bizarre press conference (made way cooler and funnier by West Coast air guitarist Awesome, who is also a comedian), a hallucinatory red carpet walk outside the club, and then the show began—late, of course, because there was a line down the block and around the corner. I think the sellout crowd was like 1,200 or something. Wow.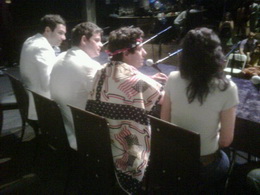 The security guy wouldn't even let me in the back alley to work out some last minute kinks in my routine! Apparently, he was intent on protecting the "talent" (air guitarists) from …. the talent.
Being a newcomer, I drew a number out of a hat and ended up going sixth, so I wasn't expecting much. My air roadies (Peter "Stiff" Dickens and Mot Waldmann) and I hit the stage with lots of energy.
They gave me a joint, shot me up with air heroin, I snorted air cocaine, and I was ready to rock. My special edit (thanks, JoJo!) of Megadeth's "Wake Up Dead" and "Bad Omen" began and it was ON.
I rushed the routine a little bit and smacked my head really, really hard on the stage at the end on accident (leaving me temporarily dizzy and with a huge pain in my head and left eardrum), but other than that I felt pretty good about it. The audience seemed to dig it too, cheering the loudest when my air guitar "impaled" me in the chest and blood spewed up in the air.
The judges didn't share the love. Maybe it was because I'm a first-timer, or maybe I didn't sell all of my unorthodox movies well enough (guitar neck that extends 30 ft. during solo, swinging guitar around neck, impalement). Whatever it was, it was clear I wasn't moving on to the second round.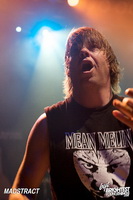 I read later that someone poured beer on one of the judges and that the audience booed when they gave me crap scores, so there's some solace in that.
I can't get too worked up—it's air guitar after all!
Either way, I'll be gunning for a spot next year for sure because that was an infectiously fun and insane evening.
The other competitors all brought something new and hilarious and I was cheering like I was front row at a KISS concert circa 1977.
There were six people who advanced to the final round and, in the end, NYC champ William Ocean edged out DC champ (but Chicago native) Sanjar the Destroyer for the crown and the trip to Finland to compete for the World Air Guitar Championship.
There's a ton of great video from the show. Go to YouTube and check it all out if you're curious. I can't begin to explain how much fun this is, no matter how ridiculous it sounds.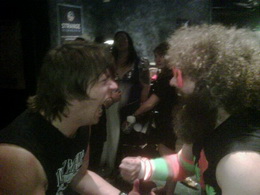 A huge thanks from me goes out to everyone at U.S. Air Guitar, our esteemed host Bjorn Turoque, all the fans who cheered and photographed and videotaped the show, and all the other air guitarists.
To all you musicians who think this is "stupid." You don't get it. This is the ultimate expression of rock fandom. It transcends playing real guitar and it's a tribute to kick-ass rock tunes that make you want to jump up and down or stop steering when you're behind the wheel. If the idea of this competition offends you, you take things too seriously.
It's ain't over 'til it's over
One last performance: The Pitch has invited me to do my act at the 2009 Pitch Awards at the Uptown Theater this Sunday Aug. 16.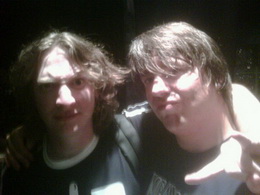 My actual band, The Dead Girls, is nominated for Best Pop Band in the awards, but I'll be displaying my airness Sunday night rather than my drumming prowess. So be it! Air guitar lives for one more night!
There was a lot of press coverage of this insane journey this summer, so I'll include some links for you to check out below.
There are at least two demo videos below that I can't embed here, so if you want to see a 2009 air guitar demo or me impromptu air guitaring to an edit of "Ogre Battle" by Queen (thanks, Kliph!), check some of these links out below (or my last blog post).
Pitch coverstory by Justin Kendall
Article in Lawrence Journal-World and video of "Ogre Battle"
The comments on that one are hilarious. Example: "Get a job!"
Interview/video in InkKC of KISS' "Love Gun" and more "Wake Up Dead"
Pitch reporter Erin Slattery's coverage of the DC show