Why bother remaking a 1981 stop-motion classic ("Clash of the Titans") if you are removing the one thing that made it fun in the first place?
Before a single important filmmaker had any bearing on my cinematic life, there was Ray Harryhausen. The stop-motion animation he refined was a fixture of countless monster movies, beginning with "Mighty Joe Young" in 1948 (which won an Oscar for best visual effects) and ending most notably with "Clash of the Titans" in 1981, the remade version of which is being released this Friday.
As a kid growing up in a post-"Jurassic Park" special effects world, there was still no greater joy as a spectator than watching the craftsmanship of Willis O'Brien in "King Kong" and the work of Harryhausen, his protegee, in "Clash of the Titans," "Jason and the Argonauts" (1963), "Jack the Giant Killer" (1962), and my personal favorite of all his endeavors, "The 7th Voyage of Sinbad" from 1958. I rented it dozens of times during my childhood and never tired of it. Still haven't. The cyclops battling the dragon outside the evil magician Sakura's cave is just as iconic and thrilling to me as Kong's battle with the tyrannosaurus-rex in the original "King Kong."
The advent of CGI in the past two decades revolutionized not only visual effects in films, but the enterprise of filmmaking as a whole; just look at what Pixar has achieved since the release of "Toy Story" in 1995. Vast, intricate, towering worlds have been created and populated by thousands of equally intricate, vividly rendered creatures. Now, in the specific case of CG-animated films, the issue of realism is far from prevalent and far from meaningful, but with live actions films that use CGI, it's extremely important.
Does really well-funded, painstakingly executed CGI look convincing? Of course it does. What Peter Jackson was able to create in the "Lord of the Rings" movies as well as his "King Kong" remake was nothing short of amazing. But the fact remains: whatever fantastic visual you're beholding in any of those films is not actually physically extant. It is, in fact, a computer-generated image.
What stop-motion animation was able to supply, in addition to a charm absent from almost all CGI, was tactility. Does O'Brien's Kong look as realistic as Jackson's? No. But that's not the point. O'Brien's Kong took up physical space and existed in the same world as the actors around it; the illusion there was his mobility and size, not his existence itself. Contrarily, Peter Jackson's Kong had the appearance of a real 25 foot gorilla down to the smallest detail, but he didn't actually exist (not outside of Andy Serkis' motion-capture work, anyway).
And now we have another remake of a stop-motion classic coming down the pike. "Clash of the Titans," coming out on Friday, is the remake of Harryhausen's last film and again tells the story of Perseus from Greek mythology. Watching the trailer, I couldn't help but feel underwhelmed. Liam Neeson seems to be doing a lot of Liam-Neeson-bellowing and Sam Worthington seems to be lost, yet again, in a swirling torrent of CG-mayhem. You know what you're getting into with this one.
The original film, directed by Desmond Davis and starring Laurence Olivier and Harry Hamlin, was, above all things, charming as hell. It was campy and earnest and had so much fun with its special effects that the cheesy acting and less interesting story components didn't matter much (as is the case with most of these movies). With computers replacing sets and CGI replacing stop-motion, the new version will likely be much more convincing but far less fun; I guess that's the trade off of my generation.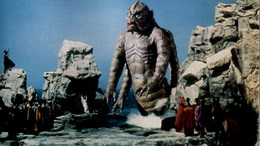 It's all the same. I just can't help but take all of this objective silliness very personally. It's a part of who I am. Quoting and reenacting many of the films Harryhausen worked on is what defined a large part of my youth. As a matter of fact, "[r]eleas[ing] the Kraken" has been a staple of my household for as long as I can remember. Make of that information what you will.