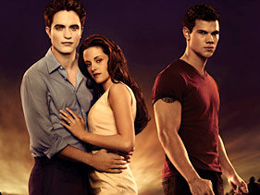 The Twilight Saga: Breaking Dawn – Part 1 broke box office records on Friday but Twilight addicts will be forced to wait a year until their next fix! The final movie in the Twilight saga, Breaking Dawn – Part 2, won't hit theaters on Nov. 16, 2012!
Are you kidding me? The Twilight Saga movies are like crack for millions of Twilight fans!  The news that we'll have to wait an entire year for Twilight drug is a major blow! Does Summit Entertainment really think it's a good idea to make millions of young and middle-aged women wait 12 months before we get our last dose of Edward, Jacob and whats-her-name?
For those of you who are not Twilight-obsessed, the second Breaking Dawn film tells the story Bella and Edward and their half-vampire, half-human daughter who is also the soulmate of Jacob Black. It sounds creepy, I know. Life for Bella Swan Cullen as a vampire is peachy until the evil Volturi vampires come after her baby.
Summit Entertainment is trying to let the Twi-Hards down easy. The stars of Breaking Dawn – Part 1 were on Ellen dishing up bit of the Twilight drug for fans about Breaking Dawn – Part 2.
Twilight Saga Continues to Be Box Office Gold
Estimates put the Friday numbers for the second-to-last entry in the series at $138 million around the world, as Breaking Dawn rolled out in 54 global markets. According to MTV News:
"Midnight showings helped propel The Twilight Saga: Breaking Dawn – Part 1 past The Dark Knight, Transformers, and most of the Harry Potter movies in the all-time opening-day box-office record books. Breaking Dawn – Part 1 enjoyed the third-highest opening day ever with a projected $72 million in domestic receipts, according to studio estimates."
Make fun of the Twilight Fans (go ahead, everyone does) but the love triangle of a vampire, a werewolf and a girl is a money machine for Summit Entertainment:
-The first Twilight movie raked in $392 million worldwide.
-The second film, The Twilight Saga: New Moon, grossed more than $709 million worldwide in 2009.
-Last year's The Twilight Saga: Eclipse cleaned up a cool $698 million.
Here's a clip about Breaking Dawn – Part 1 with the stars dishing about the latest Twi-Hard addiction!
Are you a Twi-Hard ? Need a little fix? Read the review of Breaking Dawn or find out the Top 10 Reasons Women Love Twilight.