Christmastime can't be all Hobbits and 007s. It's inevitable that some vanilla family feel-goodery is going to sneak in somehow, and this year that film is Parental Guidance, starring Billy Crystal and Bette Midler as a pair of grandparents who are in for a rude awakening when they agree to watch their daughter (Marisa Tomei)'s three kids for a week. It's nothing special, but you can't knock the players for trying in this harmless comedy.
Crystal, Midler and Tomei recently sat down at a roundtable in Los Angeles to speak about parenting, their favorite movies growing up, and whether or not Tomei can play Crystal's wife.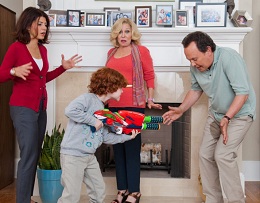 Billy, how did you like producing the film?
Billy Crystal: I've done that several times – but this time I particularly loved because it came from a real experience with my grandchildren. Having them alone alone for the first time for six or seven days and going "Wow, this is exhausting," because when you're not around little ones for a long time, you forget about how much work that is. So I came in and started writing the story that became this movie.
Do you have grandchildren?
Bette Midler: No, I've forbidden my daughter to have grandchildren, I'm too young. I'm not quite ready – when I'm ready. But you can't just give up Homeland for any old thing!
One of the things that really stood out to me was that it really is perfect for the entire family. How difficult is it to make a movie that does that?

BC: What we had was a really well written, well conceived piece from the beginning where we thought this was a multi-generational movie from the beginning.
When we had the girls, my daughter Jenny gave us like a Bible from my daughter of, "Don't feed them this; don't feed them that, if she says this, don't say that," It was crazy! So when it was emerging, we said, "This is something for everyone." And when it's cast, and you have such wonderful talented people, and a terrific director who really had his eye on the ball with it, then you realize that at screenings, everyone is liking this. And it's hard, but for this one, it was just the way it was.
I find it shocking (Billy and Bette) guys have never worked together before.
BC: We'd get that from a lot of people – didn't you? Shouldn't you? Why? So the timing was just perfect. I can speak for both of us, we had a really great time – all of us did. But for us, for where we are and where we've been, it was very special for both of us.
We knew each other. And we'd spent some time together, but nothing like palling. Except one night we watched the Oscars together. That was really fun.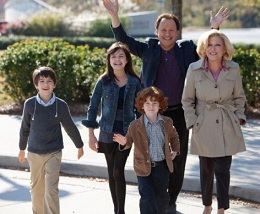 BM: You were not hosting that year.
BC: Yeah. And we always laughed. And I always came away thinking "I'd like to see her more," you know? And then when [Parental Guidance] was ready to be cast, we thought – Bette. So we called her.
BM: And you got Marisa too! Who you had a previous association with.
Marisa came to read with me to play my wife in Mr. Saturday Night back in 1991 and she was so great, but at the time she was just too young for the piece. And i called her agent and said, "Listen, she's not gonna get this, but she is amazing. And sometime, I hope to be able to work with her." Well the next year she wins the Oscar, and didn't need me at all. And then when she came for this, we said, "You should play this."
Marisa Tomei: And I said, "Am I too old now?"
BC: And it just felt perfect.
I thought to myself twenty minutes in the movie, "God, I wish they would sing and dance" – and then you did! So what was that like?
BC: Well, I was pushing for it.
BM: And I said no. I didn't think it was the right tone. But they talked me into it, and it turned out to be a lot of fun. We had a piano player on the set, and Billy did his entire "I Wish I Were" act, where he sang every musical comedy number he'd ever heard in his life!
BC: It was really fun because we were in the middle of this tornado watch, and we had this piano player because we had the scene to shoot the next day. So, I thought I would just sing to myself – I sang 'Trouble' from The Music Man! It was so much fun!
But Bette and I would sing for the kids to keep them occupied sometimes. So one day we were shooting on a train and there was a lot of echo. And we just started singing these old rock and roll songs – 'Charlie Brown,' 'Yakaty Yak' and 'Poison Ivy.' And then 'Beaucoup Love' came up and we said, "We should do this in the movie." And I was more nervous about singing than Bette, because I got to sing with her.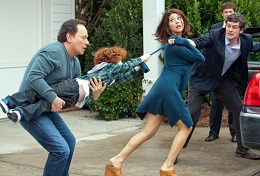 Marisa, Billy was saying that the origin of the idea was his relationship with his own grandchildren, and when his kids had children. But you've have the issue of dealing with your parents as adults, and your parents coming to visit. Was that something that you had trouble relating with?

MT: Well I see my parents a lot more often, but what I liked about the challenge of my part was I got to have those little kid feelings of being the daughter, and then switching and being a Mom. And we play lots of roles in our lives, but I got to do that in one movie, and ride the feelings, and it was a good challenge for me.
And I like seeing my parents generally because they feed me.
Are there particular films that you would enjoy seeing with your parents, or that you would enjoy seeing with your kids?
BM: My mother would only let us go to the musicals.
BC: Since I was a kid, every Thanksgiving growing up in New York, we always watched 'The March of the Wooden Soldiers' by Laurel and Hardy. Never miss it. Got a great Laserdisc of it, and now we've got a great print of it. And we still show it. It's such a great, fun, crazy 75-year-old movie, maybe even older. And now the little ones watch it with us, and they love Wally Bean and Stanley Dove, and the music of it. And it's so ancient looking, but it's so charming. So we keep that going.
MT: We would also go to musicals. So Singing In the Rain, On the Town, and West Side Story. Especially West Side Story because played that a lot before VCRs, so that would be something that would be a big deal if it came on, you caught it. So that really started, my family was not in show business at all but really loved that kind of thing. And my brother became so enamored with that film, that he started taking tap-dancing lessons, and I followed him and started tap dancing, and my mother and father started tap dancing – I was in a class with my family, tap dancing!
BM: When my daughter was younger we showed her all the great musicals. And the great dramas and great comedies, and the one that she took to the most was Some Like It Hot.
BC: The perfect movie.
BM: She would play Some Like It Hot every year, and on her birthday we rented a screening room and played it for her.
This movie also has some really interesting insights into new child rearing techniques – I think a lot of us haven't seen the 'put-ups' for example. What are your takes on these new techniques – are we making our kids a little soft, should they be tougher?
BC: Those are all real things that I experienced, not with [my daughters] growing up but with the, you know – I'm trying not to step into something and get a call, "Dad why'd you say that?"! But we'd go to games [where score wasn't kept], and I'd get it, but I wouldn't get it, because I think there's a real value in winners and losers, in not everybody getting a trophy – it makes you work hard, you appreciate what it takes, to say, "Why didn't we win?" You shouldn't be condemned for losing. You're not going to be as good as everybody, but you can out work them, you can out hustle them. You can out think them. I think it's a real value. I think we can be a bit too touchy-feely with with the way I observe the, uh . . . not my kids! Somebody say something. . .