Scroll down for the video comparison…I've recieved a lot of crap (especially on YouTube) for suggesting that "The Curious Case of Benjamin Button" had a lot of similarities both thematically and plot-wise to "Forrest Gump." I have to tell you that I'd a bad feeling ever since I saw the preview. My friend Katie saw the film before I did, and when I asked her what she thought about it, she didn't want to spoil it for me, but she said that the whole movie reminded her of another film. With much trepidation, I said "Please don't say 'Forrest Gump.'"My on-camera review (in which I am still worked up about being so disappointed in the film) is here and several people have agreed with me so I know I'm not crazy. The "Mayor of Television" David Kronke has posted his comparison of the two movies here, but this post from Maidenhead is the most in-depth and funny comparison I've seen:
Name that film: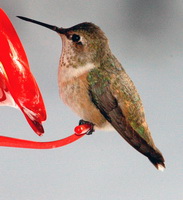 A white man is born fatherless in the south with birth defects that lead many to think he may never walk nor live a normal life. His saintly mother believes in his potential anyway. At a young age, the man learns to walk and sheds his exoskeleton of locomotive aids. Around this time, he also meets the love of his life, a vivacious girl who grows into a bold woman who parts ways with the man to have her own wild adventures. Meanwhile, the man reaches adulthood, and puts in a wartime stint in the U.S. military. During this stint, the man proves at first an indifferent asset, but during his one firefight, he turns out to be very valuable, saving the day singlehandedly, while also witnessing the death of one of his best friends. The man also spends much time on a small ocean vessel, serving alongside a rowdy, grizzled, hard-drinking man of the sea. This salty sailor serves as one of our man's two best male friends; the other is a black man who first teaches our man the lessons of friendship before departing forever.
Our man wanders all around the world, his life brushing up against key historical moments of the 20th century. At some point he returns to his childhood home, and his mother dies. The man comes into considerable wealth through blind luck. Around this time, his lifelong love returns from her adventures, ready to commit to him. During their brief time together, they conceive a child. The couple part ways, due to the woman's perceived inability to take care of the man. He does not raise the child through its early years but later makes an appearance in its life. The woman eventually dies in bed from illness. The man's later years are hardly touched on, even though the movie has lavished much attention on his early and middle years.
The entire story dwells repeatedly on the theme of life's uncertainty and, in contrast, on the notion of fate or coincidence. The film's symbol for these themes is a small object seen hovering improbably in the air. A narrative frame scene punctuates the story, as does the main character's drawling voice-over.
Acceptable Answers:
Forrest Gump; The Curious Case of Benjamin Button.*
* Both movies were written by Eric Roth, a man who now owes me seventeen dollars.
…and then there's this:
From Reuters: "The Curious Case of Benjamin Button" got a little stranger Friday [Jan. 30] after an attorney representing an Italian office worker filed legal papers alleging that the screenplay was based on a story she wrote in 1994.The David Fincher film, nominated for 13 Oscars, features Brad Pitt in the role of Benjamin Button, a man who ages backward. It was inspired by — but not based on — a 1921 short story by F. Scott Fitzgerald.
Adriana Pichini, a Roman office worker, said the film seems to be based on a story she wrote 15 years ago called "Il ritorno di Arthur all'innocenza" (Arthur's Return to Innocence). The story was officially registered with the proper Italian copyright authorities in 1994 and even sent to publishers in the U.S., but was never published.
According to Gianni Massaro, Pichini's lawyer, a file was opened with the Rome Tribunal Court, which means a judge will watch the film and read the story. If the judge determines there are enough similarities to warrant an investigation, the court will launch one.
Massaro, a fixture in the Italian cinema industry and a former president of the Italian audiovisual association ANICA, said in an interview that he is not sure if Pichini will seek financial damages against Fincher, screenwriter Eric Roth and the film's producers.
"At this point it's still a matter of principle," Massaro said. "What happens next will depend on what the judge rules."
No timetable has been set for the judge's viewing. The rest of Italy will be able to see the film when it goes into nationwide release February 13.