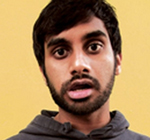 What is IMAX? The "fake IMAX" controversy and boycott. IMAX facts on retrofit for theaters. How big is the screen? The sound?
It's a huge Twitter trend as I write this. Comedian Aziz Ansari (from NBC's Parks and Recreation) published this tirade about paying an extra $5 to see and IMAX showing of "Star Trek" (which shattered box office IMAX records) that wasn't much bigger than a normal screen. By the end of the day, he had caused such a stink that IMAX CEO Richard Gelfond responded on MainStreet.com:
"The overwhelming majority of comments on that guy's blog this morning, more than 90% of them, are vehemently disagreeing with him. And consumers are confirming this with their continued purchases of tickets."
Aziz says this is not true on a post later that day.
Why is this a big deal and what are the facts?
I guess I'm just used to seeing IMAX in local movie theaters on screens that are not as big as the ones I saw at the zoo when I was younger. And I also know that most Hollywood movies are upconverted, rather than filmed in the actual IMAX format or a hybrid of both (like "The Dark Knight" which had about 20 minutes actually filmed in IMAX during production*), so I've come to accept it and just enjoy that it's a little bigger and a lot louder. Aziz feels gypped because this is the first time he's gone to one and he didn't appreciate the extra charge.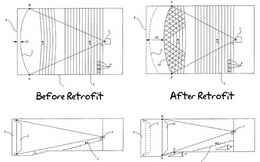 Gizmodo says: "IMAX used to build their own massive theaters in their own buildings. But now, in order to expand, the company has made a deals with major theater chains like AMC in which they'll provide and install their proprietary mix of projectors, screens, speakers and hardware if the theater will foot the bill for the necessary structural renovations."
Wikipedia says: "The resolution of the picture is much lower than normal IMAX. The screens used by digital IMAX installations are also much smaller (28×58 feet) than those found in traditional IMAX cinemas. Despite these facts, the digital installations are marketed simply as IMAX, drawing no distinction to the traditional 15/70 IMAX – much to the dismay of 15/70 IMAX cinema owners."
A digital version of IMAX started rolling out in 2008. The new system is a projection standard only. About this new system, IMAX mentions no size standards or picture standards, just generalizations: "With crystal clear images, laser-aligned digital sound and maximized field of view, IMAX provides the world's most immersive movie experience."
What is the difference in this digital IMAX retrofit?
1. The screen is bigger (although sometimes as little as 10 ft.).
2. The seats are closer, making the screen more imposing.
3. Acoustic paneling to absorb sound and remove echo.
4. A specifically non-THX-certified sound system featuring uncompressed digital sound without distortion that removes the center-only "sweet spot" and improves the surround experience.
5. Two digital 2K Christie projectors that work together.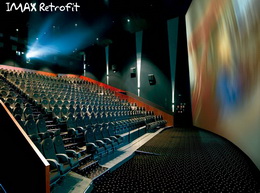 Here's the bottom line: Theaters just don't have the room or the money to build standalone houses just for IMAX purposes. If you sit 30 ft. closer and the screen is bigger and the sound is amazing, you'll notice a difference. You may not feel that the picture is enveloping you like it does at the nature documentaries at theme parks, but you'll notice a difference. (Besides, with all of the fast Hollywood editing most action pics have these days, true IMAX might create a pretty bad headache.)
If you see a movie filmed with IMAX cameras, you'll really notice. Unfortunately, not that many movies are filmed that way ("Star Trek" and most everything else was upconverted). With the numbers it posted this weekend though, I'll bet more will.
It would be nice, however, for theaters to designate an IMAX-D for the digital IMAX retrofits.
Figure it out for yourself: If your multiplex can't house a 70+ ft. screen, it's a digital IMAX retrofit.
* "The Dark Knight" used high-res IMAX cameras in the 15/70 film format. When the scenes shot on IMAX cameras were shown in IMAX theatres, the aspect ratio morphed to 1.43 to 1, expanding the image to fill the entire screen and magnifying the overall effect. Regular 35mm upconverts like "Star Trek" have the letterboxed look throughout the entire movie.