Score one for "Knocked Up"!
After my all my complaining about the Golden Globes leaving off one of the best movies of the year (a comedy, of course!), the American Film Institute has put Judd Apatow's "Knocked Up" on its short list of the 10 best Films of 2007. They also included "Juno," but at least they didn't feel like that should disqualify "Knocked Up," like it was a one-or-the-other kind of thing.
My two favorites of the year are also represented, as well as Tony Gilroy's "Michael Clayton" and Sidney Lumet's "Before the Devil Knows You're Dead," which were solid films. The nod to Pixar and Brad Bird's "Ratatouille" almost guarantees its Best Animated Film Oscar win, and since Julian Schnabel's "The Diving Bell and the Butterfly" is the only foreign film on here, let's put that as the clear front-runner for Best Foreign Language Film…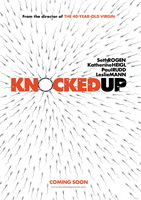 Wait.
We can't.
Because each country is only allowed to submit ONE picture from their country, and France has chosen the animated "Persepolis," that means that both "The Diving Bell and the Butterfly" and "La Vie En Rose" (a film that will get a nomination for its lead actress Marion Cotillard) are ineligible for the Best Foreign Language Film Oscar. Yeesh. That means two of the best foreign films of the year and one of the best documentaries ("The King of Kong: A Fistful of Quarters" — see that story here) won't even be in the nominated pool to win.
After the huge showing at the SAGs and its inclusion here on the AFI list, "Into the Wild" has to be considered a frontrunner. Which is kind of crazy for an overly long and fairly pretentious film with a couple of very affecting scenes. I had some problems with it ( character motivation, thematic confusion), but its emotional grip must have been enough to push a lot of people to overlook its faults. It's a good film, but I don't find it to be anywhere near approaching the greatness of movies like David Fincher's "Zodiac" and Andrew Dominik's "The Assassination of Jesse James by the Coward Robert Ford," which should have been on this list well before before "Into the Wild."
Regardless, here it is, AFI's Top 10 of 2007, in no particular order:
BEFORE THE DEVIL KNOWS YOU'RE DEAD
THE DIVING BELL AND THE BUTTERFLY
INTO THE WILD
JUNO
KNOCKED UP
MICHAEL CLAYTON
NO COUNTRY FOR OLD MEN
RATATOUILLE
THE SAVAGES
THERE WILL BE BLOOD