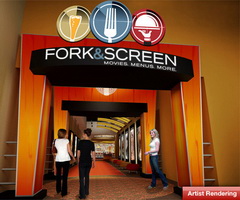 Last night was the big press event for locally-based theater chain AMC to show off their newest theater experience, which they've titled Fork & Screen. It's pretty self-explanatory, but there's a lot more to getting it right than you might think. All I can say is that, considering the high price of concession stand food anyway, why would you not want to eat real food for basically the same price and never have to leave your seat?
The grand opening is this weekend and these first three photos are from the AMC site. Here is a link to all the events, including a free live rock show by The Dead Girls and Pompous Jack on Saturday night. And here is a videoblog from Spiral16's Whitney Mathews featuring a guest appearance by me!
The Alamo Drafthouse is a great Texas theater chain that's already doing this restaurant/movie concept (and a boatload of special events and cult movies), but AMC has tweaked it a little bit for the Kansas City market, and I like the changes. Maybe the programming will get more niche as the concept grows to include midnight movies, live send-ups, sing-alongs, etc. It would be cool for KC to support something like that, but you never know…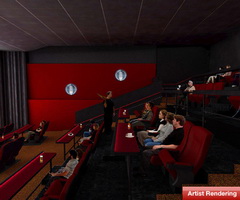 Here's the deal: Fork & Screen is one whole wing of the AMC Olathe Studio 30. Eight screens are for Fork & Screen theaters, which offer seat-side service from a waiter/waitress, who delivers you a full dinner menu and beer or mixed drinks. You order before the movie, it arrives soon thereafter, you eat on a table in front of you, and get your bill before its over. The ticket price is exactly the same as a regular theater. You must be 18 or over, or accompanied by a parent or guardian.
Cinema Suites comprise the other three theaters, and they cost a little more. The screens are still huge, but the theater only seats 32, and you can reserve a specific seat (unlike Southwest Airlines) by paying beforehand. You get reclining chairs, a swivel table in your lap, and eight feet to stretch out in.
I saw "RocknRolla" in a Fork & Screen theater and all I can say is I wish the movie would have been as good as the experience. There is a bar inside the wing called MacGuffins (named after the infamous object that everyone desires in a movie, usually something that has no value other than what's placed on it by all the film's characters) that any ticketholder 18 and over (or accompanied by a parent or guardian) can visit before and after the movie. Besides having a full menu of food and drinks, the space itself is pretty swank. The prices aren't really any pricier than any normal bar either. I particularly liked the displays of macguffins on the corrider in from famous movies like "Pulp Fiction" (the glowing briefcase) and "The Maltese Falcon." Ironically, "RocknRolla" had a b-i-i-i-g macguffin: a painting that drives the entire plot (and we never get to see), and it still sucked.
The big tweak, the biggest difference in the service that I noticed from the Alamo Drafthouse to Fork & Screen was how quickly your food came out. Since each server has a digital touchscreen, the moment your order comes out of your mouth, the kitchen gets it and starts making it. My mushroom & swiss burger was out in 10 minutes; no kidding. Now if F&S could just start booking live event/movie combos and really thinking of creative ways to use the space, that'd be amazing. People should be able to rent an F&S theater out for a night (like we are tonight at the Screenland) to show whatever they want. That would be really cool.
If I'm paying 12 bucks for a combo popcorn meal anyway, I might as well have a real dinner, y'know? This is especially perfect for me because I often go to screenings straight from work and rarely have time for dinner. Popcorn does not a dinner make, unless you happen to like that sick feeling you get after devouring a medium corn all by yourself.
Kudos to AMC for trying something different and taking a big gamble on people like me who enjoy an entire night out at the movies. It was also really cool for them to have so many free screenings this week so all the locals could see what they are all so proud of. What did you all think? I know we gave away lots of passes for last night on the site …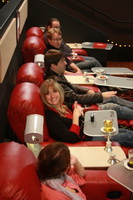 photo by Ramsey Mohsen