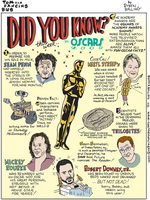 Q: What is the only Oscar-related happening that's longer than the actual Academy Awards telecast?
A: AMC Theatres' Best Picture Showcase
On Saturday, February 21, you can watch all five Best Picture candidates all in a row at your local AMC theater for only $30. (If you're a Movie Watcher club member, it's just $25.) That's one sure-fire way to catch up on the big nominees this year. The schedule is below:
"Milk" 10:30 a.m.
"The Reader" 1:05 p.m.
"The Curious Case of Benjamin Button" 3:45 p.m.
"Slumdog Millionaire" 7:15 p.m.
"Frost/Nixon" 9:45 p.m.
I look at movie festival schedules the way I look at a band's setlist (and believe me, I've made my fair share of setlists): You have to take into consideration the length and mood/tempo of each song (movie). Start strong, ease back a little, do something different, back to the"hit," and then finish strong. Looking at the overall dreariness of these Best Picture nominees, however, I don't relish the task of the person who had to program this setlist. I must also admit that programming 13 hours of content is a lot different than a 45-minute rock set from a time perspective alone.
That said, here's my take on the order of movies being shown:
Starting off strong with "Milk" is a good idea. Despite it ending with an assassination, it has a very hopeful vibe, so that will be good leading into …
The depressing post-Holocaust drama "The Reader." This will being everybody to a low point right away. It's good to mix things up here, but I would have put "Frost/Nixon" second. It's just as average as "The Reader," but a lot less emotionally taxing. You don't want your audience to already be spent on your second movie.
Third: A tough slot, even for a movie that's not 2 hours and 45 minutes.  Unfortunately, that's what "Benjamin Button" is, and it feels every second of it. "The Dark Knight" would have been a brisker-feeling long movie, but the Academy, in its infinite wisdom, didn't see fit to nominate it. I digress. This is the only spot for this movie. I would have put it here too.
Now we have "Slumdog Millionaire," the most exhilarating movie on the list. If the day were shorter, I would say end with this one. Go out on a high note! As it is, with 13 hours to fill, you got to wake everybody up after "Button," and this is the perfect way to do it. Good choice.
Lastly, there's the sad case of "Frost/Nixon." Putting it last is just mean. Most people will have gone home or fallen asleep in its first half hour. I would have put it second and let "The Reader" try to keep people awake and alert. It won't work for either, I fear.
In a perfect world, my Best Picture showcase would have been in this order:
"Let the Right One In"
"Man on Wire"
"The Dark Knight"
"Synecdoche, New York"
"The Wrestler"
Be sure to enter our 2009 Oscar Prediction Contest to win a free Netflix subscription!