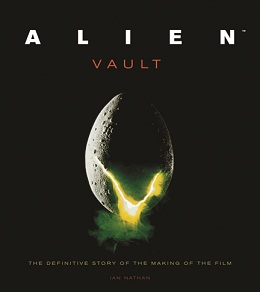 Like most franchises, the Alien series has gradually been watered down to the point of irrelevance, so it may be hard to remember the shock of horror that audiences felt in 1979 when Ridley Scott's sci-fi horror movie scared the hell out of them. Empire writer Ian Nathan has captured that vibe and a virtual treasure trove of cool collectibles and images in the new book Alien Vault: The Definitive Story of the Making of the Film.
Even though James Cameron's 1986 sequel Aliens made Ripley (Sigourney Weaver) an action-movie icon, it was Alien that introduced her and her to audiences.
This beautifully put together coffee-table sized hardcover book contains an entire chapter on Ripley—including one hilarious bit of trivia: After her six minutes in Annie Hall, Weaver was kind of a snob and didn't want to do a sci-fi film. While filming the movie, the 29-year-old actress  secretly thought of Alien as 'Henry V on Mars.'
175 pages of black-and-white and gorgeous full-color photos are interspersed with numerous "enclosures" and enough rich detail about all elements of the production to keep fans happy for a very long time.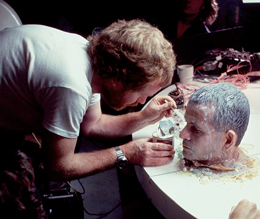 Nathan gets why the movie has endured and the focus of the book is Scott's entire creative process towards making Alien a timeless classic rather than a flash-in-the-pan carnival ride. (It will be interesting to see how can revive the whole thing next year with Prometheus, which is supposed to be some kind of sequel.)
It's amazing to look back and think of how many times Scott had to butt heads with the studio, especially over the involvement of artist H.R. Giger, whose handiwork in creating the creature (widely known) and numerous set pieces (not so widely known) have grown to be synonymous with everything about the film. Giger himself actually carved the  landscape that surrounded the spaceship on the planetoid surface.
Color storyboards designed by Scott himself were called 'Ridleygrams,' and its fascinating to see how closely they resemble the scenes in the finished movie. Printing them in the book would be one thing, but actually being able to pull them out separately and unfold them gives you a more complete idea of what the filmmakers must have felt viewing them for the first time.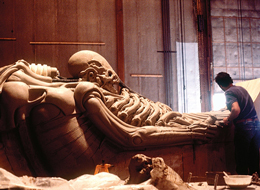 There's also a pull-out schematic of the ship Nostromo, paintings by Giger, script pages and Polaroids from the set with Scott's notations, and pull-out promotional mini-posters from the U.S. (a discarded attempt) and Japan (which shows way more of the actors than the U.S. version did).
Nathan isn't trying to dig deep and uncover the hidden stories of Scott's past and put this film into some larger context. It's not a biography, after all. What he does so is cover all aspects of the production with a a narrative that is economical without feeling incomplete. Being able to illustrate these ideas with a rich amount of supporting detail helps as well.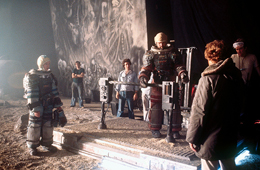 In that way, reading Alien Vault: The Definitive Story of the Making of the Film is kind of like reading a comic book. It lets you dictate the pace at which you digest information and in what order. And with a movie that relies this much on the painstaking detail of its visual presentation, this is clearly the way to go. (It reminded me of reading about all the careful consideration Scott put into the design of Blade Runner.)
I guarantee any Alien fan who picks this book up will thumb through it a number of times before actually sinking their teeth in all the way. That, of course, will follow soon after.
Here are some more fantastic images from Alien Vault: The Definitive Story of the Making of the Film.