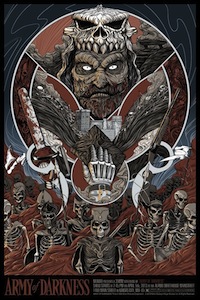 Who wants some?
This past Friday everyone wanted a little piece of the Alamo Drafthouse Mondo Poster Event for Army of Darkness.
For those of you who may not be familiar with Mondo and their relationship with Alamo Drafthouse, Mondo is a high quality poster and printing outlet that works with some of the best artists in the business. From Ken Taylor, Jay Shaw, Tyler Stout, to Todd Slater, and Tom Whalen just to name a small handful of the Mondo roster, these artists offer alternative posters for popular films.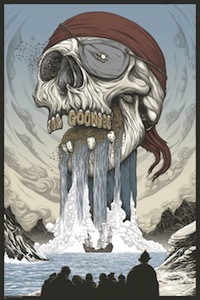 Last years event featured The Goonies and saw an amazing poster from Randy Ortiz.
Kansas City must have lots of love for Mr. Ortiz, because he was also responsible for the Deadite filled poster for Army of Darkness.
I have come to expect the events at Drafthouse Mainstreet to meet high expectations, and this one did not disappoint. The place was packed. We were told that this had been the biggest success of any Mondo event.
That's right Austin, New York, and San Francisco, Kansas City has got you beat.
It only took a matter of minutes for the tickets to sell out.
The crowd was fidgety and expectant, and just as we were preparing for she-bitches, boomsticks, foul creatures, and skeletal warriors, there he was, the man himself, Bruce Campbell.
,
Turn it up! The audio is low. I was trying to be discreet with my camera in the theater.
The 35mm print of Army of Darkness looked great, and, for my taste, I wished that the crowd had been a touch more animated and rowdy. It seemed that a few too many were worried about mussing their poster tubes.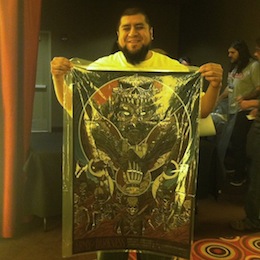 The majority of the audience was down to party, which always makes a film that begs for shouts and hollers all the more fun.
After the film, the poster was revealed and everyone rushed to grab his or hers.
Here is a picture of the first one out the door. I thought this guy was going to faint from excitement.
If you missed the Army of Darkness Mondo Poster event, don't worry. Each month Alamo Drafthouse has a roster of exciting events that offer varying levels of interactivity. From themed dinners to quote-alongs, just make sure you are following their calendar of events for details.